PDP hardens stand: Mehbooba wants assurances from BJP for govt formation
The Peoples Democratic Party (PDP) on Sunday hardened its stand and sought clear and definite assurances on tricky issues from alliance partner BJP as well as the Centre before taking a call on government formation in Jammu and Kashmir.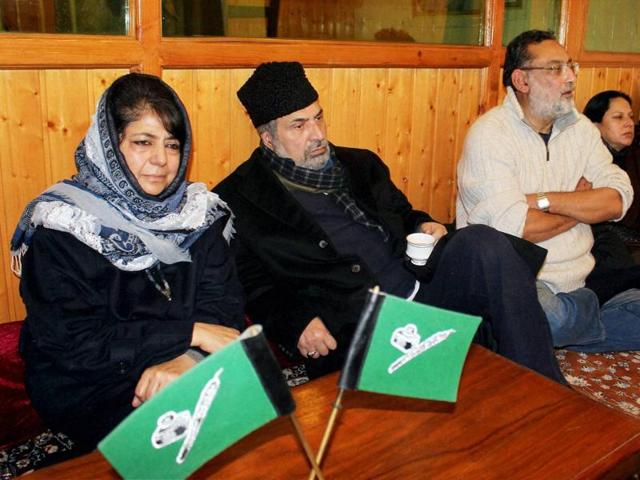 Updated on Feb 01, 2016 08:00 AM IST
The Peoples Democratic Party (PDP) on Sunday hardened its stand and sought clear and definite assurances on tricky issues from alliance partner BJP as well as the Centre before taking a call on government formation in Jammu and Kashmir.
The party's stand further pushed the state into uncertainty as it has been under governor's rule since the death of chief minister Mufti Mohammad Sayeed on January 7 while his daughter and PDP president, Mehbooba Mufti, almost kept to herself and didn't make any public comments on continuing with the coalition.
She broke her silence on Sunday after a meeting of party leaders and legislators at her residence and targetted "certain quarters, both within J&K and in New Delhi," that overtly and covertly triggered "frequent controversies over avoidable contentious issues resulting in wastage of the state government's energies in firefighting and propitiation".
"Mufti Mohammad Sayeed took a courageous, although unpopular, decision of aligning with the BJP with the hope that the Central government headed by Narendra Modi will take decisive measures to address the core political and economic issues concerning Jammu and Kashmir and its people," Mehbooba said.
She alleged that such quarters created "violative circumstances … instead of partnering with and implementing Mufti Mohammad Sayeed's vision of bringing peace, stability and prosperity to" the state.
Given the circumstances, "we will have to reassess whether we can absorb the shocks which Mufti Sahab had to do so frequently … We can't form a government just for the sake of power," she said.
Mehbooba promised during her 45-minute speech that she would "continue to stand by Mufti Sahab's vision even if I'm left alone ... won't compromise on his vision and power isn't my priority".
The PDP also sought time as she said the Union government would have to take substantive measures for implementing the PDP-BJP "Agenda of Alliance" in the interest of peace and stability in the state.
The party hinted that the alliance government led by Sayeed was not allowed to deliver.
"She will take a call once she is convinced the purpose and the objective of the alliance Mufti Sahab had forged along with Prime Minister Narendra Modi is served," party spokesman Nayeem Akhtar told Hindustan Times.
Akhtar said Sayeed took a very unpopular decision but was hopeful that "with a Prime Minister as empowered as Modi, taking decisions should be easy and taking forward the agenda of alliance will be unobstructed".
But instead, Sayeed had to a lot of troubleshooting. "Mufti Sahab carried a lot of weight but he still had to do a lot of firefighting. He did it even at the cost of his health and against the advice of doctors," he said.
"The PDP without Mufti Sahab will not be able to absorb those shortcomings. Mehboobaji will take a call only when she is sure that a government led by her can deliver."
"No deadlines for government formation were set and no new demands have been put forward," Akhtar said after the first formal meeting of the PDP following Sayeed's death.
Political observers hoped that there could be some announcement after a meeting of the PDP legislative party in Srinagar on Monday.
The party did not come clear on issues but sources said it was more upset and concerned over non-cooperation by the BJP on day-to-day matters, besides bigger tricky topics such as hoisting of the state flag, Article 370, the Armed Forces (Special Powers) Act as well as the beef ban.
Mehbooba is reportedly upset over the public snubbing of Sayeed during Modi's Srinagar rally.
The PDP also felt the rehabilitation package for Kashmir's flood victims was too little, too late.
Moreover, sources said the PDP found the atmosphere of intolerance in the country made it difficult for the party to convince its core vote bank about its alliance
with the ideologically-opposite BJP.
"Though these nine months, BJP members even went to court against hoisting of the state flag, imposing of the beef ban … next could have been Article 370. The
alliance partners never seemed to be on the same page on anything," a senior PDP leader said.
Reacting to the PDP chief's comments, the BJP state unit reiterated that the terms of agreement is a "sacred document" for both alliance partners who have little ideological similarities but came together for the benefit of the people to provide good governance.
BJP state unit president Sunil Sethi said the agenda of alliance was honoured in the nine months when Sayeed ruled the state.
(with inputs from HTC, Jammu)
Close Story