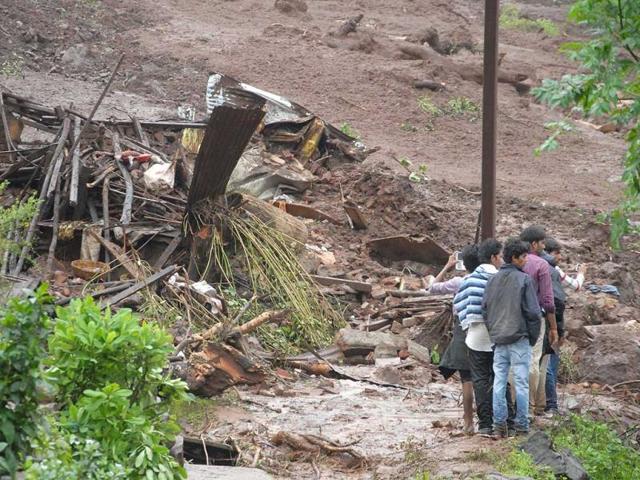 Pune landslide: Death toll hits 70, hopes fade
The death toll from a landslide that engulfed the entire Malin village in Pune district rose to 70 as heavy rains on Friday hampered efforts by hundreds of rescue workers digging through heavy mud and debris. Were eco warnings on Malin ignored?
UPDATED ON AUG 02, 2014 11:08 AM IST
National Disaster Response Force (NDRF) jawans waded waist-deep through slush to recover 29 bodies trapped under the debris of a landslide that swallowed up Malin village in Maharashtra on Wednesday.

The death toll so far is 70 and authorities believe at least 97 persons are still trapped under debris.

To expedite the process of digging out bodies and save time, NDRF is using both sniffer dogs and life detectors that can sense heartbeats.

"We have four sniffer dogs, who traced five bodies in a day. We hope to dig out more bodies by tomorrow (Saturday) with the help of dogs," said an NDRF official.

The force, which mobilised 378 rescue workers to help with the search, worked into the night in a desperate hunt for any more survivors after lights powered by portable generators were set up.

"Our boys are facing a gruelling task. Adverse weather and lack of space to operate heavy machinery are the main things," said Gautam Sarkar, an assistant commandant of the NDRF.

"We have not been able to survey the whole area since the loose mud buries you up to your thighs," Sarkar said.

According to Sarkar, finding people alive would be extremely unlikely.
"The houses have been buried under layers of wet mud, which makes chances of survival bleak, since no oxygen can go in," Sarkar said.

Nevertheless, additional earth-moving machinery was being brought in, said Alok Avasthy, operations head of a national disaster response team, who estimated the search effort would run for another two days.

Reacting to reports blaming a government-sponsored team for the disaster, relief and rehabilitation minister Patangrao Kadam said once the rescue operation was over, the government will investigate the cause of the landslide.

Two days of torrential rains triggered the landslide early Wednesday, burying dozens of homes in the hilly area with a chunk of hillside giving way and a cascade of mud, rocks and trees, sending up clouds of dust below.

Environment activists allege that every summer, just before the monsoon, the state agriculture department levels land on hills so that villagers can carry out farming activity. The scheme includes leveling of the land, blocking water and creating artificial ponds used for fish farming.

Blaming the state agriculture department for being responsible for the landslide, local activist Suresh Talekar has filed a complaint against officials at Ghodegaon police station.
"Under the scheme, officials deployed earthmoving machines to level the land. As the heavy rains caused water percolation, the loosened soil due to leveling made matters worse triggering the landslides," Talekar said.
In Pune, relief and rehabilitation minister Patangrao Kadam discussed with officials the rehabilitation plan of the Malin village.

"44 houses out of total 174 have been affected by the disaster. Once the rescue operation is over, we will ask the villagers whether they want to be relocated to safer places," said Kadam.

(With agency inputs)
Close