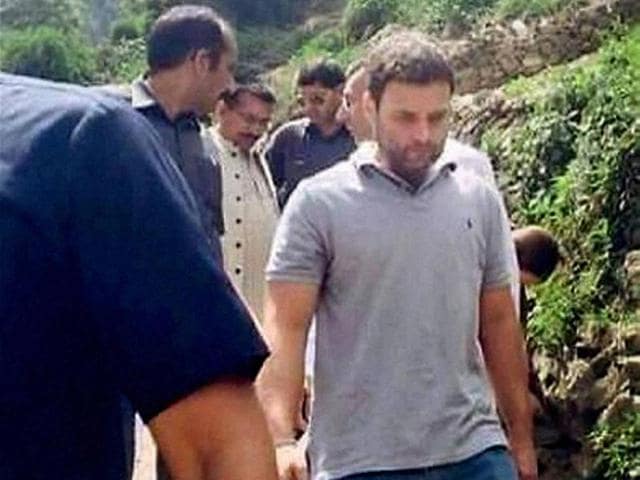 Rahul Gandhi walks to Kedarnath, feels 'fire-like energy'
Congress vice-president Rahul Gandhi completed his trek up to the Kedarnath shrine on Friday and said that he did so to pay his respects to the victims of the massive 2013 floods in the region.
Hindustan Times | By HT Correspondents
, New Delhi /kedarnath
UPDATED ON APR 24, 2015 11:59 PM IST
Congress vice-president Rahul Gandhi completed a slush and snow-filled trek to Kedarnath on Friday morning, reaching on time for a special prayer at the renovated ancient shrine that had suffered extensive damage in a 2013 cloudburst.
Among the first to enter the temple that reopened after a six-month break, Gandhi said he felt a "fire-like energy" during the time he was inside one of Hinduism's holiest places of worship overlooking snowcapped Himalayan peaks.
"I never seek anything from god when I visit temples. I entered here and made no wish but I felt a divine power," said Gandhi, who trekked around 20km for over two days in what is ostensibly an effort to reassure people that tourism in Uttarakhand is now safe.
Video: Rahul Gandhi treks to Kedarnath, pays tribute to 2013 flood victims
​
His temple tour follows a mass-contact programme across several states that he is likely to start after the budget session of Parliament, sources said.
Back from a 53-day political sabbatical, his trek to Kedarnath is viewed by opponents as an attempt to project a soft-Hindutva image amid voices within the Congress that Hindus have "felt alienated" because of the party's perceived minority appeasement policy. Some also argued that Muslims too doubted the intentions of the party.
Congress spokesperson RPN Singh dismissed such insinuations, though.
Gandhi listed two reasons for his Kedarnath visit: to pay homage to those who lost their lives in the 2013 tragedy and dispel fears that the route was unsafe.
Devastating flash floods in the state in 2013 killed nearly 5,000 pilgrims and dealt a blow to the tourism industry. Official figures suggest that the impact of the disaster continues to loom large over pilgrims visiting the Char Dhams - Badrinath, Kedarnath, Yamnotri and Gangotri - in Uttarakhand.
The number of pilgrims visiting Kedarnath fell drastically from 3.12 lakh in 2013 to 40,182 in 2014. Some seven lakh people in Kedar valley are directly or indirectly associated with activities linked to the Char Dham pilgrimage.
Close