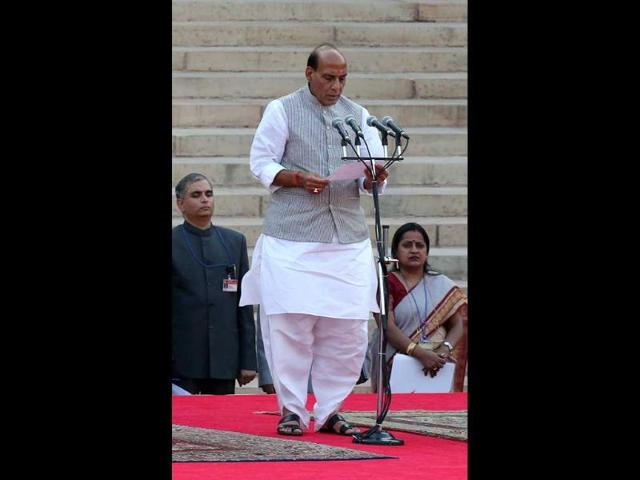 Rajnath meets RSS leaders over new BJP chief
Amid talk of leadership change in the BJP after government formation, party president Rajnath Singh on Wednesday met RSS chief Mohan Bhagwat and other top Sangh leaders.
UPDATED ON MAY 28, 2014 05:11 PM IST
Union home minister Rajnath Singh met RSS chief Mohan Bhagwat and other leaders of the outfit — ideological mentor of the BJP — on Wednesday to discuss the appointment of the next BJP chief.
Singh also met Modi to brief him over the discussions held with the RSS leaders.
Since Singh, the current Bharatiya Janata Party chief, has been inducted into Prime Minister Narendra Modi's cabinet, the party needs to bring in a replacement for his post.
Some of those being considered to lead the party are general secretaries JP Nadda, Amit Shah and P Muralidhar Rao. Om Mathur, a close Modi aide and in-charge of the last Gujarat assembly elections, is also a frontrunner.
The BJP is likely to carry out a host of organisational changes as most of its leaders have joined the new government.
General secretaries of the BJP, Ananth Kumar, Dharmendra Pradhan and Thawar Chand Gehlot, have become Union ministers. Smriti Irani and Jual Oram, who are vice-presidents and Piyush Goyal, who is the treasurer, have also been inducted into the council of ministers.
Modi was sworn in as the new Prime Minister on May 26. Besides him, 45 other members were inducted into the new council of ministers. A cabinet expansion is likely to take place in mid-June.
RSS pointsman for the BJP, Suresh Soni, was also present at the meeting held at the RSS office in New Delhi on Wednesday.
(With inputs from Agencies)
Close