Rajnath's likely arguments to Prez Pranab on Arunachal crisis
Judging by the governor's report, here's what the home minister is likely to tell the President in a bid to convince Rashtrapati Bhavan that the state's constitutional machinery has indeed crumbled under chief minister Nabam Tuki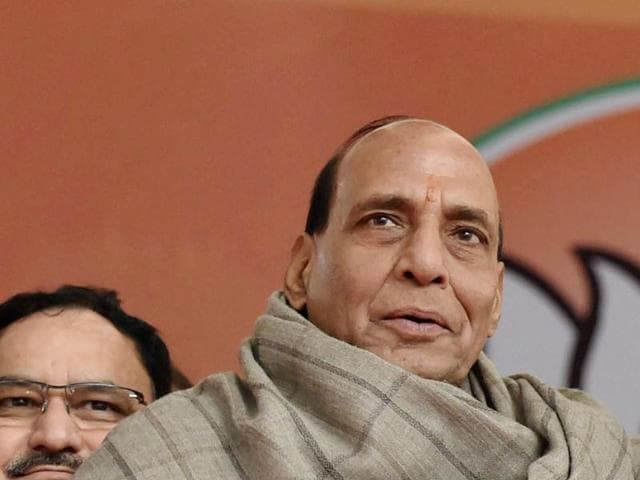 Updated on Jan 25, 2016 03:42 PM IST
A day after the Union cabinet recommended bringing Arunachal Pradesh under central rule, home minister Rajnath Singh will meet President Pranab Mukherjee on Monday to explain the circumstances under which the government decided to pull the plug on the state's Congress-led coalition government.
The Congress has stated that the cabinet decision was a reflection of the Narendra Modi government's political intolerance. "This is an act of political intolerance by the government, which speaks of cooperative federalism," party leader Kapil Sibal said.
Judging by the governor's report, here's what the home minister is likely to tell the President in a bid to convince Rashtrapati Bhavan that the state's constitutional machinery has indeed crumbled under chief minister Nabam Tuki:
The constitutional crisis is real
Arunachal Pradesh was rocked by a political crisis on December 16 last year, when 21 Congress MLAs joined hands with 11 BJP members and two Independents to "impeach" assembly speaker Nabam Rebia from a makeshift venue in Itanagar. The speaker called the meeting "illegal and unconstitutional". Only 27 MLAs in the 60-member assembly, including chief minister Tuki and his ministerial colleagues, boycotted the proceedings. The matter is now before the Supreme Court.
Singh is likely to argue that the constitutional crisis in the state was real, irrespective of how one looks at this controversial meeting. If the Supreme Court rules the session invalid, it would amount to a constitutional breakdown because the assembly has breached Article 174 of the constitution – mandating that the gap between two sessions of the assembly should not exceed six months.
Read more: It's against Constitution: Politicians on Arunachal Prez rule move
On the other hand, if the top court rules that the session was valid, it would mean that the state's Congress government was in a minority but unwilling to let a floor test of its strength be conducted.
State wasn't responding to guv's letters
The state government was violating Article 167(b) of the Constitution, which requires the state to respond to governor Jyoti Prasad Rajkhowa's request for information regarding affairs of the state as well as legislative proposals.
Law & order situation has deteriorated
The law and order situation has deteriorated severely, with even the Raj Bhavan being gheraoed and access to it blocked. Moreover, the governor had informed the home ministry in his reports that government officials were indulging in indiscipline, lawlessness and politicking. The Centre has also accused the civil services of funding certain student groups and communal organisations against others, fuelling communal passions even against the governor.
State turned blind eye to insults thrown at guv
The state administration remained a silent spectator while the governor, a nominee of the President himself, was being publicly insulted and humiliated. The gherao of the Raj Bhavan amounts to a constitutional breakdown in the state.
Close Story
Personalise your news feed. Follow trending topics