RSS and BJP stopped me from entering temple in Assam: Rahul Gandhi
Updated on Dec 14, 2015 09:26 PM IST
Congress vice-president Rahul Gandhi on Monday claimed he was stopped from entering a temple in Assam by BJP and RSS workers during his recent visit to the state.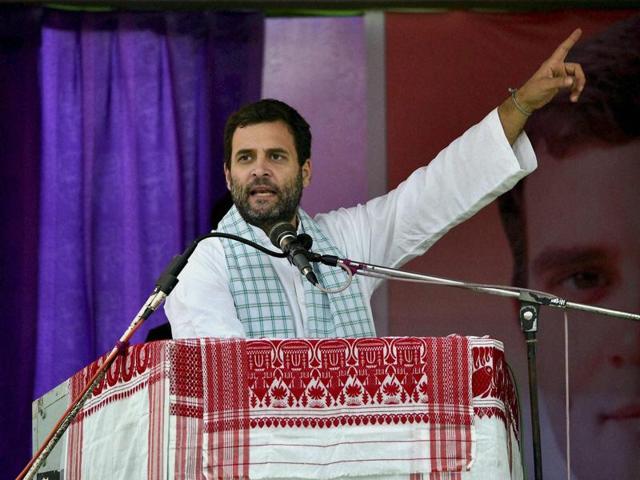 Congress vice-president Rahul Gandhi on Monday alleged he was stopped by RSS workers from entering a temple in Assam during his recent visit, prompting the state government to say it would probe the incident.
"The RSS stationed a few women at the gate to stop me from entering the temple. Who are they to stop me from entering a temple," Gandhi told reporters outside Parliament.
"This is the way the BJP operates," he said adding that he visited the temple later in the evening after RSS workers left the place.
The incident allegedly happened at the Barpeta Satra -- a famous Vaishnavite monastery 100 km from Guwahati --during his two day visit to Assam on Friday.
Even as the monastery denied it was pressured by the RSS, chief minister Tarun Gogoi said an inquiry would be conducted.
"While concluding a padyatra, Rahul entered the satra to pay his respects and seek blessings...It was a conspiracy by RSS, which has infiltrated into satras also," Gogoi said.
An RSS spokesperson in Guwahati said the Congress was trying to communalise a non-issue with an eye on the upcoming state polls.
"Gandhi did enter the temple without any hindrance, so this appears to have been an afterthought. Gogoi created this controversy with elections in mind," he said.
Monastery head Basistha Sarma rejected the allegations saying the inmates had actually planned a grand welcome to the Congress leader.
"He came to the monastery around 3:30pm and paid obeisance like any other devout. It is wrong to say anyone tried to stop him from entering the temple," Sarma said.
Sarma said he could not meet Gandhi because he arrived two hours late due to bad weather.
"I was there at the main gate with Bhumidhar Barman, Nilamani Sen Deka (former Congress ministers) and other MLAs waiting for Gandhi," he said.
Gandhi's arrival was delayed , as his chopper – scheduled to land on a field near the monastery at 10am – could not take off from Guwahati because of bad weather.
Local officials said the delay in Gandhi's arrival had forced a change of route in the morning , forcing him to leaving for his padayatra from a point 50 metres from the monastery gate.
(With agency inputs)
Close Story
Personalise your news feed. Follow trending topics