Tributes pour in from all over the world for Abdul Kalam
Updated on Jul 28, 2015 04:22 PM IST
International figures from politics, leadership and business from around the world paid their tributes for the death of the former President of India. Dr Kalam suffered a major cardiac arrest during a lecture at IIM - Shillong after which he collapsed and was declared dead on Monday evening.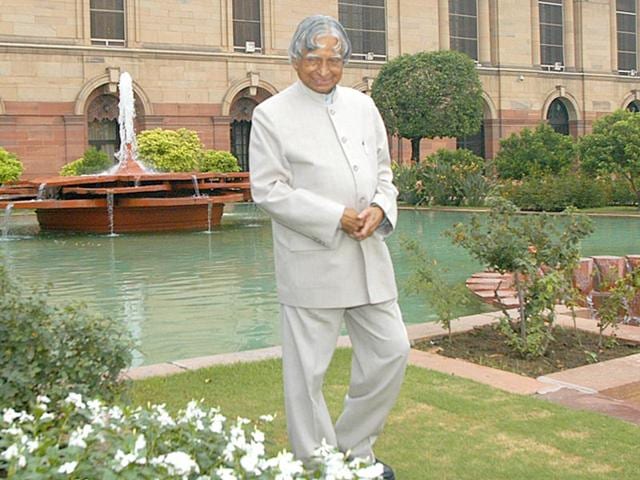 Thousands across the world, including world leaders, paid their tributes on Tuesday to APJ Abdul Kalam following the death of the former president on Monday evening.
Kalam, who would have turned 84 in October, died after suffering a massive cardiac arrest while delivering a lecture at the Indian Institute of Management in Shillong.
Singaporean Prime Minister Lee Hsien Loong called Kalam the "people's president" as he paid tribute to the Missile Man of India.
"I was honoured to meet Dr Kalam when he visited Singapore in 2006. Our thoughts are with his family and the people of India during this time of sorrow," said Lee on his Facebook account.
"Dr Kalam had humble beginnings, but rose to become a top scientist at India's defence research organisation. He then served as the country's 11th President from 2002 to 2007, and was widely regarded as the 'People's President'," he said.
Pakistan Prime Minister Nawaz Sharif too expressed his condolences praying for eternal peace for the departed soul. On Monday, the Pakistan foreign office had said "Kalam will be remembered for his meritorious services for his country".
Nepal's Prime Minister Sushil Koirala joined thousands of Nepalis, who took to social networking sites like Facebook and Twitter, to express grief and sorrow over the demise of Kalam.
"I am saddened to hear the news of passing away of Kalam," said Koirala.

Koirala expressed his condolence to Prime Minister Narendra Modi, government of India, relatives of Kalam and Indians on behalf of the government and people of Nepal. Koirala also recalled Kalam's contributions in leading India on the path of scientific advancement and progress.
"Hearty tribute to Abdul Kalam, former President of India. Deep condolence to the government and people of India," said former deputy prime minister and minister for foreign affairs Narayan Kaji Shrestha, in a message.
Within minutes of the news of Kalam's death late on Monday evening, many posted photos of Kalam and his famous quotes on Facebook.
"He never got old. That was his charisma. What a hero - Abdul J Kalam ! love you !" a woman journalist Anjali Subedi wrote on her Facebook wall.
News of his death was widely covered in the Nepali media in Tuesday's editions.
Expressing his condolences, leading NRI industrialist Lord Swraj Paul described Kalam as a "great President" and a personal friend.
"APJ Abdul Kalam was a great president and a very distinguished world-renowned scientist who made an immense contribution to India. All of us Indians are very proud of the achievements for which he was responsible," said Paul, chairperson of Caparo Group, the UK-based diversified conglomerate.
"In addition to being one of the most popular Presidents of India, he was also a very approachable man and a great personal friend. I met him just three months ago when I was in India in April and he was his usual warm and hospitable self," Paul said.
"May he live in the memory of the country forever," he said.
India's space man
The US media also highlighted the contribution of Kalam to India's atomic and space programme and described him as one of the most "exuberant boosters" of the country's nuclear capabilities.
"He used the spotlight to urge India to build up its military strength and to free itself from the threat of domination by outside forces," The New York Times wrote in a rare obituary for Kalam.
The daily said that Kalam spent little time outside India.
"For him, it was a point of pride that India had developed its bomb without much help from foreign powers. And he described himself as thoroughly Indian," it said.
The Washington Post said Kalam has been credited with helping develop his country's first space satellites.
"He played a crucial role when India tested its nuclear weapons in 1998. The test resulted in sanctions against the country but helped elevate Mr Kalam to the status of folk hero in his country," the Post said in its obituary.
The Wall Street Journal reported that Kalam, who was born into a poor Muslim family in Tamil Nadu, was at the forefront of the country's efforts to develop a space programme and a strong advocate for India's self-reliance in defence technologies.
"He encouraged the development of India's first indigenous satellite launch vehicle that brought the country into an elite club of space-faring nations and guided India's missile-development programme. Dr Kalam also played a key role in boosting India's nuclear capabilities, leading to nuclear tests in 1998, a technological achievement seen as pivotal in asserting the country's place in global politics," the WSJ said," the daily said.
"He was the first scientist to hold the office, and was widely viewed as an apolitical figure," the CNN said.
Read also:
Ex-president Kalam will continue to ignite minds on Twitter
Close Story
Personalise your news feed. Follow trending topics