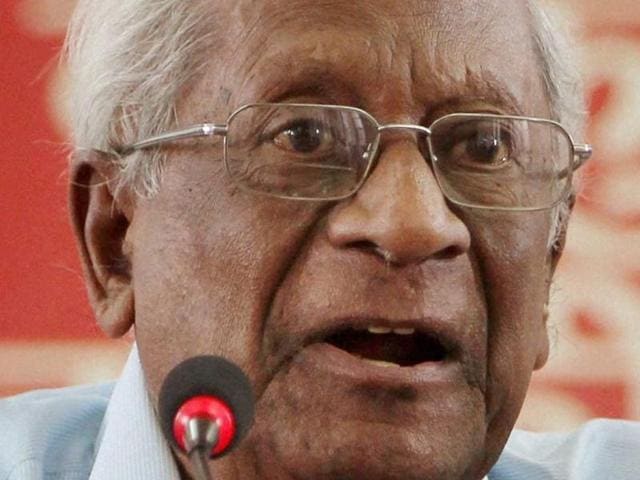 Veteran communist leader AB Bardhan dies after paralytic stroke
Veteran Communist Party of India (CPI) leader AB Bardhan died at a private hospital in the capital on Saturday, a doctor said.
UPDATED ON JAN 02, 2016 11:41 PM IST
Former general secretary of the Communist Party of India and a doyen of India's Leftist movement, AB Bardhan, passed away in Delhi on Saturday evening. He was admitted to G B Pant hospital after suffering paralytic stroke last month.
Bardhan, 92, survived by son Ashok and daughter Alka, will be cremated on Monday.
Dr Vinod Puri, Director and Professor of Neurology in G B Pant Hospital, said Bardhan "died at 8:20 pm. He suffered a brain stroke due to blockage in the middle cerebral artery."
As the news poured in, many political leaders condoled the veteran leader's death.

Prime Minister Narendra Modi tweeted, "Will always remember Shri AB Bardhan as a passionate Communist, fully committed to his ideology & principles."

Congress president Sonia Gandhi described him as "who championed the cause of dispossessed and the marginalized throughout his life."
Delhi chief minister Arvind Kejriwal, his West Bengal and Bihar counterparts Mamata Banerjee and Nitish Kumar and Marxist leader Sitaram Yechury were among a host of leaders to express their grief.
"V sad to hear the demise of Comrade Bardhan. May his soul rest in peace," Kejriwal tweeted.
Mamata posted: "Saddened at the passing of veteran politician AB Bardhan. Condolences to his family and colleagues in his party."
Communist Party of India-Marxist general secretary Sitaram Yechury wrote: "Red salute, Comrade Bardhan. We miss your wisdom, experience and guidance, Comrade. Pledge to carry forward the Indian revolution."
Bihar Chief Minister Nitish Kumar posted: "Deeply saddened to hear of Veteran CPI leader AB Bardhan ji's death.He was a leading figure of the trade union movement and a voice of the poor."
(With inputs from Agencies)
Close