JNU student leader Kanhaiya's bail plea to be heard by SC tomorrow
Feb 18, 2016 06:29 PM IST
JNU student leader Kanhaiya Kumar, who was arrested on sedition charges for allegedly organising an event where "anti-national" slogans were shouted, on Thursday filed a bail application in the Supreme Court.
JNU student leader Kanhaiya Kumar, who was arrested on sedition charges for allegedly organising an event where "anti-national" slogans were shouted, on Thursday filed a bail application in the Supreme Court.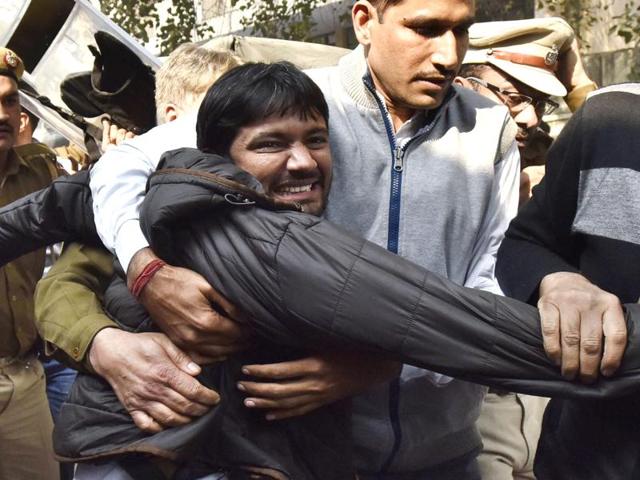 The petition of the Jawaharlal Nehru University students' union president was mentioned before a bench of justice J Chelameswar and justice AM Sapre by senior advocates Soli J Sorabjee and Raju Ramachandran.
The lawyers wanted the plea to be heard on Thursday itself. However, the bench suggested that they would consider it on Friday.
Kumar said in his petition there was no need for his custodial interrogation as he has already been sent to judicial custody. He claimed his innocence and said no purpose would be served by keeping him in the jail as the police have been finding it difficult to produce him even in the court.
In his application, the JNUSU president sought protection of "life and limb", saying there is "great likelihood of an attack on him in prison" and said there was a need for the apex court to intervene.
JNU students rejected an appeal by vice-chancellor M Jagadesh Kumar and staged a march in solidarity with Kumar in central Delhi area with flowers as a mark of peace. Delhi Police, however, said that they did not have the permission for the march from Mandi House to Jantar Mantar.
Students from universities across the country are protesting Kumar's arrest. Leaders from various political parties too have spoken against Delhi Police's high-handedness at JNU and the violence inside and outside the Patiala House Courts in Delhi.
Read: From Kolkata to Chennai, students call for Kanhaiya's release
Delhi BJP legislator OP Sharma, along with lawyers linked to the BJP, thrashed reporters and students on Monday. Two days later, despite a Supreme Court directive, a mob of lawyers punched and kicked Kumar, and roughed up journalists outside the Patiala House Courts.
The incident prompted the Supreme Court to ask authorities to evacuate the court room and rush a panel of top advocates to assess the security situation.
'Govt's complete failure'
Congress vice-president Rahul Gandhi and Delhi chief minister Arvind Kejriwal met President Pranab Mukherjee over the growing protests on university campuses against Kumar's arrest and criticised the government over the issue.
"The government wants to crush anyone who opposes this ideology. The government's job is to protect students, not crush them," the 45-year-old leader said outside Rashtrapati Bhavan.
Gandhi condemned the violence, saying the brawls had tarnished India's image and invoked the example of Dalit scholar Rohith Vemula – who killed himself in Hyderabad after months of alleged caste discrimination.
"Nationalism is in my blood, I have seen my family sacrifice for this nation. If anyone said something against the nation he should be punished according to law. However, it's not the government's job to destroy educational institutions and crush its students," he said, with party leaders by his side.
In the memorandum submitted to the President, Gandhi drew a link between the lawyer violence and the BJP, saying the brazen acts weren't possible without the "tacit support, encouragement or, at best, the indifference of the ruling establishment".
"The government's complete failure in managing tensions and restoring law and order, and its refusal to protect the democratic right of its citizens is a cause of deep concern for us," the statement said.
Read: Unusual silence on JNU campus but students say won't be silenced
It said that the attack on journalists appeared designed to intimidate the press. "This doesn't bode well for our democracy. This is unacceptable."
Kejriwal too attacked the central government over the issue, blaming Delhi Police for failing to stop violence by lawyers outside a local court. The Aam Aadmi Party chief said action should be taken against students who shouted anti-national slogans at a JNU event but criticised the Centre for failing to arrest those responsible.
"This government can't catch 4-5 students who shouted those anti-national slogans, how will they catch who carried out the Pathankot attacks," Kejriwal said after the meeting.
Kejriwal also condemned violence by lawyers outside Patiala House Courts on two separate occasions this week.
"We asked the President what is this absence of rule of law, anybody can beat a person who raises pro-Pakistan slogans," he said.
Lawyers fail to appear
None of the three lawyers summoned by Delhi Police in connection with the February 15 attack on journalists, students and teachers of JNU in Patiala House court, have appeared before the police yet. All three of them were sent summons on Wednesday and asked to appear before the police at 3pm.
While one of the three lawyers has been identified as Vikram Singh Chauhan, names of the other two have not been disclosed by the police.
Delhi Police commissioner BS Bassi said they will move court and obtain warrants if the three lawyers failed to do so.
BJP MLA Sharma, who was caught on camera beating a CPI activist at Patiala House court on Monday, joined the probe on Thursday, a day after he was served a similar summon.
Delhi Police have been under attack for not taking action against those involved in the assault at the court complex on Monday and Wednesday.
Leftist, ABVP students face off at JU
The JNU issue has found support on campuses across the country especially Jadavpur University in Kolkata. Students there have staged rallies and put up posters inside the campus in solidarity over the past few days.
On Thursday, Left-backed students' groups organised a gathering to protest the alleged storming of JU and tearing off posters by Akhil Bharatiya Vidyarthi Parishad (ABVP) supporters on Wednesday. Later, the gathering poured into the streets near the main gate of the campus.
Read: Don't want Taliban culture, hooliganism: 3 ABVP members slam NDA, quit
ABVP supporters, led by actors-turned-BJP leaders Rupa Ganguly and Locket Chatterjee, too staged a rally and marched towards JU chanting nationalistic slogans and waving the national flag. They were blocked by the police about 200 meters from the main gate. But some of them were able to break one of the barricades.
As the news spread, teachers and security personnel of the university formed a human chain in front of the university as both sides chanted slogans against each other.
Chattra Parishad too came out with a rally in support of JU students.
Till the last reports came in, police were able to convince AVBP supporters to disperse. However, tension is still simmering in the campus.
(With agency inputs)
Read More