Will bring electricity to Bihar villages if we win: Radha Mohan Singh
Radha Mohan Singh is a busy man these days. He holds several rallies for BJP candidates in different parts of Bihar ahead of the assembly polls. In his rally speeches, he reminds people of the 'jungle raj' during Lalu Prasad's days and calls Nitish Kumar an opportunist. He stresses on boosting the agrarian economy of the region, as a majority of the people are dependent on it. He also talks of bringing industry if the BJP comes to power in the state. Hindustan Times spoke to him about the recent political developments in Bihar. Excerpts from the interview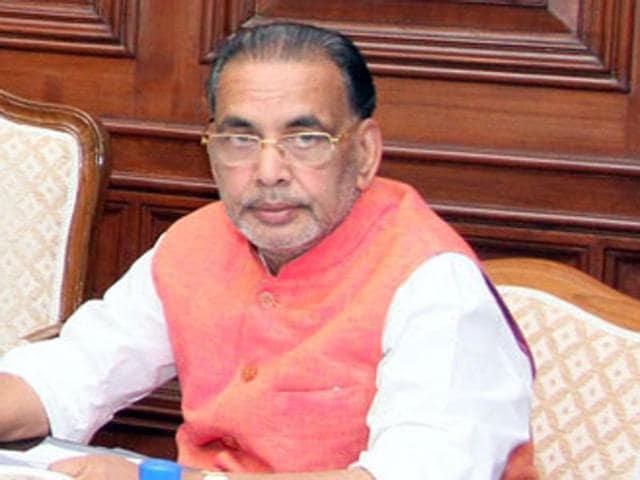 Updated on Oct 10, 2015 04:09 PM IST
Radha Mohan Singh is a busy man these days. He holds several rallies for BJP candidates in different parts of Bihar ahead of the assembly polls. In his rally speeches, he reminds people of the 'jungle raj' during Lalu Prasad's days and calls Nitish Kumar an opportunist. He stresses on boosting the agrarian economy of the region, as a majority of the people are dependent on it. He also talks of bringing industry if the BJP comes to power in the state. Hindustan Times spoke to him about the recent political developments in Bihar. Excerpts from the interview:
Q) You are among the star campaigners of BJP in Bihar. But leaders of BJP and Grand Alliance are engaged in verbal duels. Why no one is talking about development?
A) It is not like that. We are talking about development. Prime Minister Narendra Modi has announced a mega package of Rs. 1.25 lakh crore in central funds for Bihar, which will boost the economy of the region. We have plans to bring electricity to all villages of Bihar so that water can be sent to farm fields through tubewells. But if Lalu Prasad makes a remark like 'Hindus also eat beef', we have to issue a rebuttal.
Political experts say that the Dadri lynching has further caused fear among the minds of Muslim voters and they will not support BJP. Your thoughts?
A Whether it is Hindu or Muslim, forward or backward, everybody wants development. They have seen years of Congress rule and RJD- JDU rule too. They saw that there has been no development during the rule of these parties and now want to bring BJP to power. By returning the Rs 5 crore relief package announced by Gujarat for the flood-affected in Kosi, what did Nitish Kumar do? Wasn't it a big loss for the people of Bihar?
Vishwa Hindu Parishad leader Sadhvi Prachi said those who consume cow meat deserve the same fate as that of Dadri lynching victim?
She is not from our party and I don't support any such comment. Nobody should take law and order in their hands.
So, you believe whether people eat a cow or a goat, nobody has the right to kill them?
What I am saying is that cow is an integral part of farmers' economy and a farmer who owns a cow will never die hungry. Therefore, eating it is injustice to farmers. Lalu ji says that there is no difference between goat and cow meat. What message is he giving to farmers or Yadavs who own cows? 'Bihar ke kissan aur majdur aaj hai badhal, Lalu-Nitish kar rahe hain anargal pralap' (Bihar's farmers are in a deplorable condition and Lalu, Nitish are saying unnecessary things).
You did not answer my question. Is it justified to kill a person on the basis of what he eats? What is stopping you from condemning the Dadri incident?
I have already said that I condemn people taking law and order in their hands.
You said that there has been no development in Bihar in the Nitish Kumar-era. But BJP, too, was part of the government for more than seven years. So, it means that the BJP too should be blamed for industries not being set up in Bihar and the rising unemployment among youth?
We were with Nitish Kumar only to stop jungle raj. It was the agenda of Nitish Kumar that worked, he was the CM; we didn't have much say in the alliance.
Bihar saw a lot of development in the seven years that we were with the BJP. Roads and hospitals were made in every village. But since the past two years, there has been no development. When we came to power along with the JDU, in just two years, Bihar's growth rate went to 16%. But in the past two years, it has come down to 8%. Secondly, when we came to power in 2005, the kidnapping incidents in Bihar went down to 2,200 in number. In 2013, the number was 5,200 and in 2014, 6,522 cases were reported.
Being an agriculture minister at the Centre, what have you done for Bihar till now?
Agriculture is a state matter. We give money to states, which is not used properly. We increased Rs 14,000 crore in Bihar's budget. But nothing is happening on the ground. People in Bihar are not getting diesel subsidy in drought-affected regions. If we come to power, we will give soil health cards to each farmer. We will make the villages equipped to use tube wells for their crops.
You accuse Congress of dynastic politics? Can't the BJP be accused of the same in Bhagalpur and Brahmpur?
Both Arijit Choubey (son of BJP MP Ashwini Choubey) and CP Thakur's son Vivek Thakur are old soldiers of the party and have been working for the party for many years and have held key posts in state wings.
In the party's internal assessments, it was found that the BJP could be headed for a close fight with the Grand Alliance of Lalu Prasad, Nitish Kumar and Congress? What do you have to say about this?
This is not true. Our party is going to get two-third majority. People of all castes and class are with us and Bihar wants a change.
Given a chance, would you like to be the Bihar CM?
This is for the party's parliamentary board to decide.
Close Story
Personalise your news feed. Follow trending topics