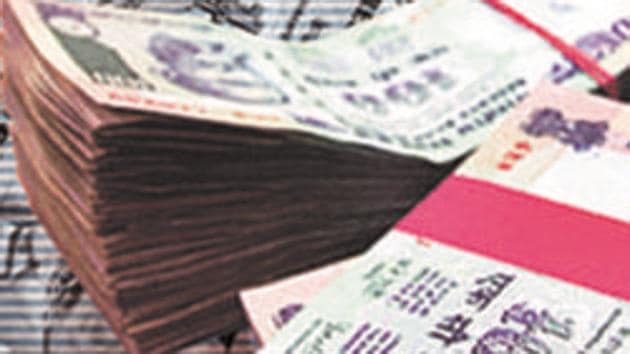 Bhilwara co-op bank scam: ACB probe reveals bank president among 15 who siphoned off Rs 25 crore
A complaint was registered in the matter with the ACB on May 19, 2016. Almost three years later, on May 1, 2019, the ACB registered a case against 15 accused.
Hindustan Times, Jaipur | By Jaykishan Sharma
, Jaipur
PUBLISHED ON MAY 12, 2019 12:51 PM IST
In a primary investigation into the Rs 50 crore scam in Mahila Urban Co-operative Bank of Bhilwara district, the Anti-corruption Bureau (ACB) has found that about Rs 25 crore were siphoned off by the then president of the bank Kirti Boradiya, her husband and the then financial advisor of the bank Ravindra Boradiya and 13 other members by sanctioning fraudulent loans.
HT has a copy of the ACB'S preliminary investigation report.
A complaint was registered in the matter with the ACB on May 19, 2016. Almost three years later, on May 1, 2019, the ACB registered a case against 15 accused under section 13(1) (C) (D) — applicable if a public servant fraudulently converts property entrusted to him or under his control for own profit — and section 13(2) — misuse of office — of the Prevention of Corruption Act after finding the charges to be true.
"In preliminary investigation, we have found that Rs 25.05 crores were distributed illegally through corrupt practices to ineligible people. At present, there are 15 main accused in this case. More names may pop out after complete investigation," said Mridul Kachawa, superintendent of police, Ajmer ACB.
Bhilwar district comes under the Ajmer range of ACB.
In the complaint, it was alleged that in connivance with the bank management, Kirti and Ravindra had distributed loans to their relatives and known people who were not financially capable to repay their loans. Fraudulent loans worth around Rs 50 crore were distributed to 34 people through fake papers and improper documentation. In many cases, the submitted documents were of the people who were not the actual beneficiaries. After transferring the loans, Ravindra used to withdraw the money and use it for personal business.
The ACB found that loans worth Rs 13.35 crore were sanctioned illegally through fraudulent documents to people in the name of loan against property (LAP) in the account number LAP 457, 461, 466, 470, 471, 477, 478, 460, 462, 464, 482, 472, 476 and 465 in 2014-15 and 2015-16. The valuation of property was very low in comparison to the sanctioned loan amount.
As per the Rajasthan Co-operative Society Act, 2001 norms, loan against property can be availed by keeping the applicant's commercial/residential property as security. The value of your property decides the amount of potential loan to be sanctioned to the applicant.
Similarly, loans worth Rs 5.04 crore were transferred to account numbers 473, 490, 491, 492, 493, 494 on the pretext of loan against property. Here also, the loan amount was more the valuation of the property.
Further, the ACB found that the bank suffered a loss of Rs 9.5 crore due to the sanctioned home loans to 34 "ineligible" people.
"Prima facie, we have found that along with Ravindra and Kirti, the board members were also equally responsible for this fraud. Ravindra is a joint promoter in a construction company and was developing a township in outskirts of Bhilwara city. Ravindra and other accused used the forged documents to avail the loan. Many complainants of cheating and forgery are registered against him and other board of members across various police stations of Bhilwara and special operations group (SOG) is also investigating the matter," the Spsaid.
Siddhant Sharma, additional superintendent of police (SOG), Udaipur said that Ravindra was arrested in November 2018 and was granted bail in January 2019. The other 13 accused in the case are Nitu Pipada, the then managing director and the then board members Yashoda Kabra, Asha Mathur, Meena Jain, Seema Trivedi, Vijaya Surana, Usha Jain, Snehlata Bhadada, Juli Suriya, Rinku Baheti, Sangeeta Singhal, Manali Choraria and Neha Jain.
HT tried to contact accused Ravindra Boradiya, but he did not respond.
The Reserve Bank of India (RBI) had cancelled the licence of Bhilwara Mahila Urban Co-operative Bank on August 31, 2018, citing that the bank does not have adequate capital and earning prospects. The RBI, in its official press release, said that bank is not in a position to pay its present and future depositors in full as and when their claims accrue.
Close