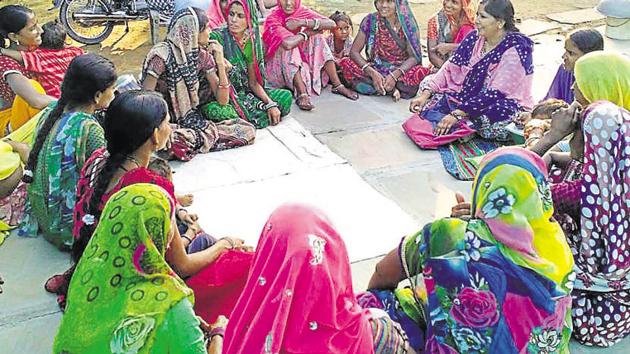 Bundi women turn to SHGs, goat rearing to stop children from becoming labourers
Many children in the village drop out of schools and start working as child labourers engaged in breaking cobblestones
UPDATED ON DEC 27, 2016 09:24 PM IST
After her husband passed away, Malti Devi was left to fend for her five children, all of whom are below 18 years.
A resident of Budhpura village in Bundi district, Devi is among the many women who lost their husband to silicosis, making them the sole breadwinner for their families.
In most such cases, the children of the family drop out of schools and start working as child labourers engaged in breaking cobblestones along with their mothers.
To secure the future of their children and stop them from becoming child labourers, many women from these villages are now looking up to self help groups (SHGs) and other means of alternative income to sustain their families.
"My children go to school and I want them to be educated and find some other profession. I am currently the member of an SHG in Budhpura. One of the benefits of being in the SHG is that every month we can save some money," said Devi.
A non-governmental organisation called Manjari Sansthan is currently operating around 17 self help groups in the villages adjacent to the stone quarries. These SHGs have a total of 202 members.
"Our policy is to involve in the process every stakeholder, including the women, their children as well as the quarry and mine owners. We also regularly hold community consultation sessions with all the group members to strengthen the decision making power and economic independence of the women," said Bajrang Singh from the Manjari Sansthan.
The SHGs have made a combined savings of around Rs. 2 lakh since January 2015.
The women have found another extra source of income with goat rearing. This occupation of late has become very popular in the village.
"We give the animals to the families for free. They rear the goats and keep the money that they receive after selling the grown-up animals. The money, even if it's only a few thousands can be a shot in the arm for the families which are mostly poverty-stricken," said Singh.
"My husband passed away a few years ago. Now I am a member of the SHG and involved in its goat rearing scheme. The money proves beneficial as I am the sole earner in the family and have children to look after for," said 45-year-old Moja Bai.
Some of the children are also learning alternative livelihood options such as the work of an electrician and any other hazard-free professions.
But there's still a long way to go for these women because the present income from goat rearing and SHGs are not enough to match the earning from the stone quarries.
"I also did a course in stitching, but there are many challenges. If I do stitching or other such courses then who would go to work in the quarries given the fact that my children are very young. Our primary income still comes from breaking cobblestones," said Malti Devi.
Close