CAG slams archaeology dept for neglecting inscriptions
A report by the INTACH states at least 22% of the unpublished inscriptions, containing important historical facts had totally disappeared or had been damaged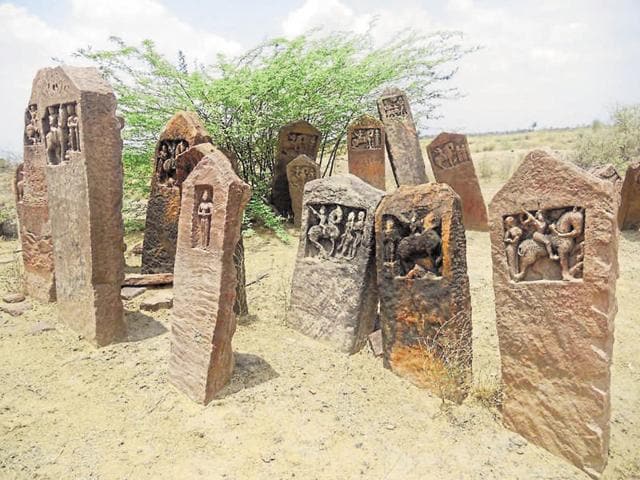 Published on Sep 27, 2016 09:25 PM IST
Hindustan Times |
, Jodhpur
Dinesh Bothra
The Comptroller and Auditor General (CAG) has expressed concern over the archaeological department's negligent and careless attitude in conserving inscriptions discovered in western Rajasthan.
The CAG asked the government to immediately notify these inscriptions and take steps to preserve them from defacement and damage.
The CAG - in a recent report - raised questions over functioning of the state's archaeological department.
Earlier, the CAG sought the departmental reaction over a news report published in Hindustan Times on March 13, 2015. Hindustan Times, on the bases of an Indian National Trust for Art and Cultural Heritage (INTACH) report, published the news story.
When the CAG sought clarification from the archaeological department over the news report, the department could not come out with a specific response. The CAG termed it as an indication of casual approach by the department over the conservation of significant inscriptions.
According to a report by the INTACH, at least 22% of the unpublished inscriptions, containing important historical facts had totally disappeared or had been damaged.
The Jodhpur chapter INTACH - which aims to spearhead heritage awareness and conservation in India - discovered the unpublished inscriptions in Bilara, Merta, Nagour, Jaitaran, Pali, Sojat, Pachpadra and Barmer.
Inscription expert Vikram Singh Bhati said western Rajasthan was the only area with the maximum number of unpublished inscriptions.
The preservation and protection of such inscriptions was a matter of grave concern amid lack of public awareness, said Bhati, who has conducted a research on the discovered inscriptions.
Bhati said all these inscriptions have been carved on stone slabs and most ancient of these inscriptions dates back to 117 AD.
The archaeological department should protect and preserve these inscriptions as they are in a very poor and degrading state, he said.
Bhati said the inscription of Rao Dhuhar, the grandson of Emperor Rao Seeha from the Rathore dynasty, was discovered in 1934 in Barmer's Pachpadra tehsil.
Marwar emperor Rao Chandra Sen's statue at Saran village of Pali district is also subjected to severe negligence and carelessness of the archaeological department.
Close Story