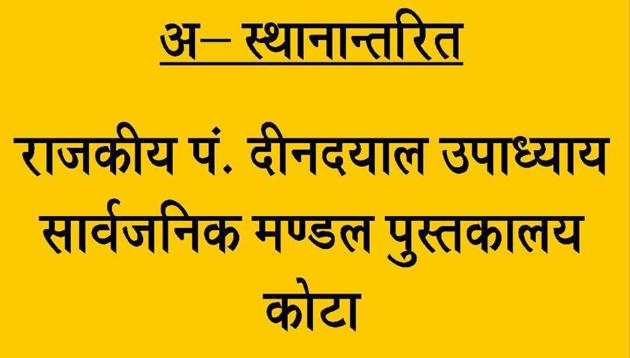 Kota's govt library opens its door for LGBT community
Library has already issued a lifetime membership to a transgender.
Hindustan Times, Kota | By Aabshar H Quazi
UPDATED ON JUL 28, 2018 09:43 PM IST
In a ground-breaking move, Government PDDU Divisional Public Library of Kota has become the state's first and country's second public library to open its door for the LGBT (lesbian, gay, bisexual and transgender) community.
The first public library to offer membership to LGBT community is in Kerala.
The Kota library, which has added a column for the third gender in its membership form, has already issued its lifetime membership to a transgender, Sahiba (42), a resident of the city. "Education is a right which had been always denied to us. We suffered discrimination the most at educational institutions. To gain membership in a library and to borrow books had been my long-cherished dream," said Sahiba, who has passed Class 7 and reads newspapers daily. "It is a huge recognition for us to be part of a library and many people would be benefited by this decision," she added.
Shahiba said that had the library opened its door for the community earlier, many of them would have joined its membership by now.
Commenting over the decision, Dr Deepak Kumar Shrivastava, the divisional librarian and head of the library, said, "It is high time the society accepts them (LGBT community). Through library memberships, we aim to provide them a platform. A new world will be opened for them, which was denied to them earlier."
It is important to mention here that the library already offers services to the visually impaired and differently-abled people. It provides text-to-speech (TTS) facility in Hindi and English, instant reading machine, Focus 40, Braille books, online books, offline audio books and Plextalk Vachak among other facilities. The library has also taken initiatives in community engagement innovations. It is providing tele-health services with the help of renowned doctors from Medanta The Medicity. Besides, it it also providing consultancy through e-clinics.
The library also provides e-mail homework assistance to the children of Kota city. Now, the library collection can also be accessed through its e-library website.
Close