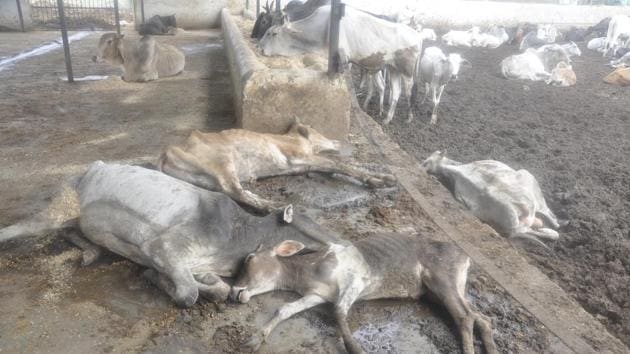 Rajasthan: Cows die as rain turns mud at cattle camp into sludge
Four cows died in the last one week after rainwater and sludge swamped a transit cattle camp in Rajasthan's Bharatpur, municipal corporation officials said, but staff of the temporary shelter put the death toll at 10
Hindstan Times, Bharatpur | By Suresh Foujdar
UPDATED ON AUG 04, 2018 10:31 PM IST
Four cows died in the last one week after rainwater and sludge swamped a transit cattle camp in Rajasthan's Bharatpur, municipal corporation officials said, but staff of the temporary shelter put the death toll at 10.
Bharatpur municipal corporation commissioner Rajesh Goyal said he heard about cow deaths at the transit camp on Friday. "I have directed the sanitation department to clean the shelter to prevent more deaths," he said.
Corporation's chief sanitary inspector Sanjay Kumar said four cows died in the camp in the last one week. Camp's staff Sunil Kumar said at least two cows died every day after getting trapped in the mud, putting the toll at 10.
"Cows are dying every day, but no official has bothered to visit the camp," said Manju Lata Devi who lives close to the camp. "We see carcasses being dragged out of mud every day," she added.
In August 2016, more than 500 cows died in two weeks at the state-run Hingonia cattle rehabilitation centre on the outskirts of Jaipur. The animals starved to death after getting trapped in slush and dung, triggering outrage and putting the state government on the back foot.
The Bharatpur transit camp was built by the animal husbandry department, urban improvement trust and the municipal corporation in June last year. The camp presently houses 200 cattle, corporation officials said.
Monsoon rain turned the transit camp into a mud-filled place. Lack of staff made cleaning of the camp difficult. Only two private staff deployed at the camp failed to clear the slush that entered the place with rainwater.
After the camp was built, the municipal corporation was entrusted with its operation. Stray cattle caught from the city are kept in the camp. The corporation was to transfer the cattle to cow shelters in districts. The shelters refused to take the cattle, protesting delay in payment of government grants to them, officials said.
Bharatpur district has 13 registered cow shelters and they have been waiting for government grants for a year. The government gives Rs 18 for a small cattle and Rs 38 for an adult kept at the registered cow shelters.
Close