Triple talaq bill a conspiracy against Muslim women: Personal Law Board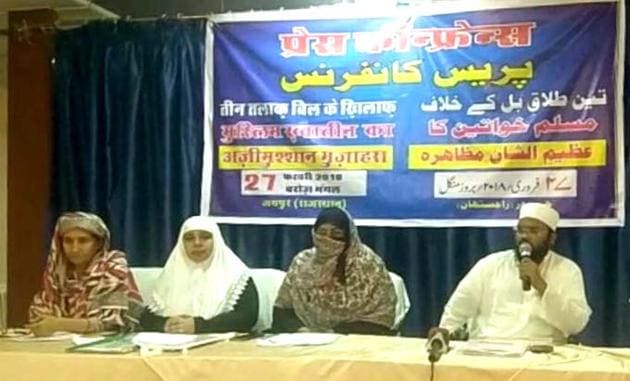 Updated on Feb 27, 2018 10:15 PM IST
Calling it "anti-Sharia and anti-women", the women's wing of the All India Muslim Personal Law Board will take out a silent march in Jaipur on Wednesday to oppose the triple talaq bill.
The march, in which around 3 lakh women are expected to take part, will start from Char Darwaza.
Addressing a press conference here, Dr Asma Zohara, convenor of the women's wing of AIMPLB, said, "The board wants the government to take back the bill as Muslim women are happy with Sharia law."
The bill , she said, has a fundamental flaw. While section 2 of the bill states that instant triple talaq is unconstitutional, section 3 says that if a husband gives triple talaq, he will be jailed. "If triple talaq is not valid, then how can you punish someone for it?" she asked.
"The bill is being presented as a historic one that will empower women. How is it empowerment if homes are destroyed and women are left to beg on the streets?" Zohara asked.
"We carried out a signature campaign against the bill and got 5 crore signatures, of which 2.8 crore were of Muslim women. They said they are satisfied with personal laws and don't want any interference."
The board has been opposing the triple talaq bill, saying the government has no right to interfere in the Muslim personal law. In August last year, the Supreme Court had declared instant triple talaq unconstitutional.
Fathima Muzaffer, an AIMPLB member, said the Quran gave Muslim women rights 1,400 years ago. "We were emancipated 1,400 years back. Muslim women were given property rights and other rights as a wife, daughter and mother."
She said the government was in a hurry to get the bill, pending in the Rajya Sabha, passed. "No Muslim religious bodies were consulted and it was passed without any debate in the Lok Sabha."
Yasmin Farooqui, member of the board, said the bill seemed to be a conspiracy against the Muslims. "The Constitution clearly states that no one can interfere in anyone's religion. Despite that our religion is being meddled with. This seems to be the first step towards changing the Constitution seeing that the Muslims are a minority," she said.
Farooqui said when lakhs of Muslim women were opposing the bill, why was the government pushing it at the instance of a few Muslim women. "It seems pre-planned," she said citing the example of Ishrat Jahan, one of the petitioners in the triple talaq case, who had joined the BJP.
The triple talaq bill has been hotly contested, with the Bharatiya Muslim Mahila Andolan carrying out a campaign in favour of the bill while the AIMPLB and several Muslim activists have criticised it.
Close Story
Personalise your news feed. Follow trending topics