UPA didn't allow soldiers to retaliate against Pakistan, claims BJP president Amit Shah
BJP president Amit Shah addressed a number of meetings at different places in Rajasthan on Thursday.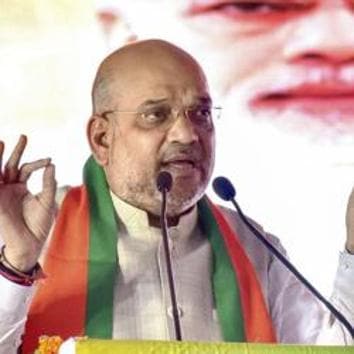 Published on Oct 05, 2018 02:56 PM IST
The Congress-led UPA government did not allow soldiers to retaliate against Pakistan's acts, but now the "brave jawans" on the border know that they have to go for a tit-for-tat reply -- 'gola' for every 'goli', BJP president Amit Shah said on Thursday.
"Aaj seema par khade veer jawano ko maloom hai ki goli ka jawab gole se dena hai (today the soldiers at the borders know they the reply to a bullet is a bomb) ," Shah said, addressing an ex-servicemen's meeting in Sikar. "This (response) has led to Pakistan suffering more damage."
In another event in Bikaner, he said four generations of the Gandhi family had insulted Babasaheb Ambedkar.
Shah lauded Prime Minister's "strong political willpower" as he talked about the surgical strikes across the Line of Control. "India joined the league of strong countries, such as the US and Israel, that can take any step to keep their unity and integrity intact." The BJP president said more than 600 terrorists and over 600 Maoists have been killed in last four and a half years.
Shah also addressed a Shakti Kendra sammelan for 21 assembly constituencies in Sikar, Jhunjhunu and Churu districts of Rajasthan.
He said the Prime Minister has taken upon himself the responsibility to equip Indian defence forces with ultra-modern techniques and weapons. "The PM has set a target of 2022 to make India's defence forces the most modern in the world. For the first time after independence, a road map for modernisation of the Army has been laid for 20 years."
Shah said the ex-servicemen have been demanding one rank, one pension since independence, but the Congress government did not do anything. "When a sensitive Modi government came to power, the Prime Minister took a decision to implement OROP within a year. More than Rs 10,000 crore has been sent directly to bank accounts of ex-servicemen by the Centre," he said. "In last 4 years alone, more than 300,000 ex-servicemen have been provided re-employment for their rehabilitation."
Addressing a meeting scheduled caste people in Bikaner, Shah said four generations of the Gandhi family had insulted Ambedkar and the Narendra Modi-led BJP government gave him the respect that he deserved by conferring on him Bharat Ratna, country's highest civilian award.
He said it was Congress' character to insult Ambedkar. "Baba saheb ko jitna bhi samman diya, BJP ki sarkaro ne diya (whatever respect was given to Ambedkar, it was given during BJP governments)."
Ambedkar's picture was put up in parliament during Atal Behari Vajpayee's government, Shah said. "His (Ambedkar's) contribution in keeping the country one is important." He said Ambedkar wanted to contest elections, but the Congress stopped it.
Congress spokesperson Pratap Singh said Amit Shah has nothing to speak over the relief given to people as they brought in no such scheme. "Just to divert public attention, they are making such baseless statements," Singh said. Today BJP is not saying anything over rise in fuel prices, unemployment and corruption, he said.
"It is clear that Shah has accepted defeat as he never speaks of work done by the CM or her ministers in the state. He knows that no development has taken place; only corruption has taken place," Singh said.
The Bikaner division, comprising Bikaner, Ganganagar and Hanumangarh districts, has a high SC population.
Close Story