Vasundhara Raje's poll yatra to focus on nationalism, development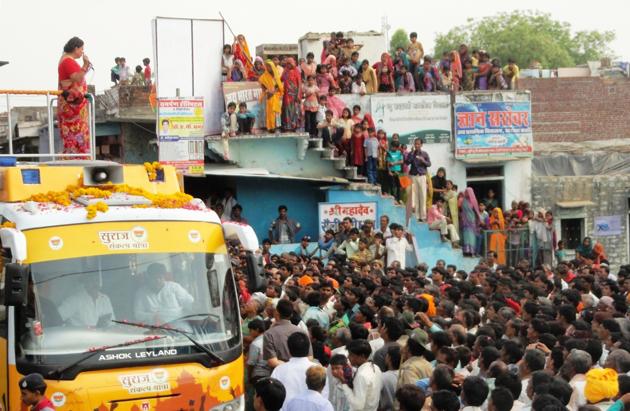 Updated on Jul 23, 2018 10:36 PM IST
Nationalism and development will be the twin themes of chief minister Vasundhara Raje's 40-day 'Suraj Gaurav Yatra' that will be flagged off by party president Amit Shah on August 4.
The party has also planned a rally of Prime Minister Narendra Modi in Jaipur or Ajmer on the concluding day of the yatra in mid-September, Rajasthan BJP president Madanlal Saini said.
Hoping to repeat the success of last assembly elections, Raje will begin her yatra from Charbhuja temple – dedicated to Lord Vishnu – in Udaipur division's Rajsamand district.
The state BJP is giving finishing touches to the route of the yatra that will cover about 180 assembly constituencies leaving out about 20 that don't fall on the main route. Rajasthan will go to polls at the end of this year.
"Nationalism is the identity of Bharatiya Janata Party. We are proud that India's stature in the world has grown in the past few years after Modi Ji came to power. Earlier India used to be a beggar, but now it's ahead of most countries," Saini said. "The Congress on the other hand is responsible for country's partition. People understand the difference. So, nationalism will be a very important theme of the Suraj Yatra."
The other theme would be development done in Rajasthan and across the country in the past four years, he said.
"The yatra will be showcasing the work done by the state government and the Centre over the past four years. We have launched a number of welfare schemes that have benefitted the masses. The people of Rajasthan will vote for us based on our track record of development," Saini said.
Raje will travel through the state for 40 days, interacting with the voters and highlighting the achievements of her government. The BJP will also be playing the religion card, albeit subtly, with Raje visiting famous temples in the districts and taking blessings of the saints.
Sources in the BJP said the party was banking on nationalism to woo back Rajputs and other communities who are upset with the party. The rath (bus) on which Raje will travel will be specially designed to reflect the themes of nationalism and development.
In 2003 and 2013, Raje had launched her statewide yatra from Charbhuja temple and both times the BJP won with an overwhelming majority, overthrowing the Congress government of chief minister Ashok Gehlot.
Party's Rajasthan state in-charge Avinash Rai Khanna said the yatra was taken out last time to uproot the Congress government, but this time it is to bring back the party to power.
Close Story