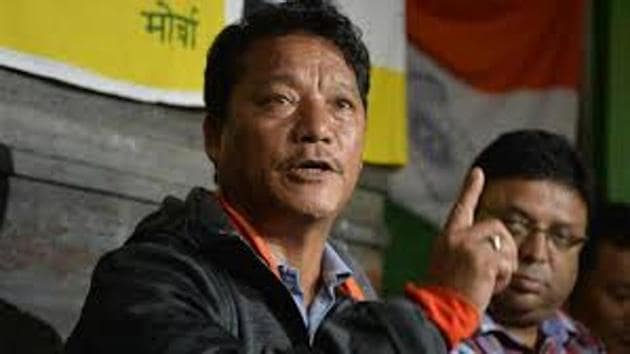 Gurung's daughter used Nepal resident's results for admission to class 11, alleges Darjeeling DM
The district magistrate has written to the education department recommending action against two schools too.
PUBLISHED ON JUN 27, 2018 12:54 PM IST
Darjeeling district magistrate on Tuesday alleged that Gorkha Janmukti Morcha (GJM) leader Bimal Gurung's used the certificate of a Nepal resident to take admission in class 11 after she failed to pass the class 10 board exams.
Darjeeling DM Joyoshi Dasgupta has alleged Annapurna Gurung used the documents of Nanda Gurung, daughter of Purna Bahadur Gurung, who is a resident of Nepal, to take admission in 2004.
Read: End of Bimal Gurung-era in Darjeeling Hills politics?
Gurung, 53, is on the run since September last year after he ran an unsuccessful agitation demanding a separate state of Gorkhaland in the north Bengal hills that included a record 104-day shutdown of the hills and loss of 13 lives including that of a police officer. West Bengal government appointed its confidante Binay Tamag in Gurung's place as chief of the Gorkhaland Territorial Administration, the semi-autonomous body that runs the affairs of the north Bengal hills.
HT could not contact Gurung and his daughter as they have remained incommunicado for the past one year.
On June 21, Dasgupta wrote to the principal secretary, school education department of the state suggesting proceedings against two schools in Darjeeling for allowing impersonation. "The complaint was lodged about four months ago by some persons in Darjeeling," said Dasgupta.
Read: With demand for autonomy, GNLF tries to regain lost ground in Darjeeling
She wrote to the secretary, Bar Association of Calcutta high court "since Nanda/Annapurna Gurung has a Bar Licence based on fake ICSE Certificate. The chief executive and secretary for ICSE has also been alerted apart from the police, CID and public prosecutor.
The two-page letter states Annapurna Gurung "got admitted in class 2 at Mount Hermon School, Darjeeling on 31.10.1994. She appeared ICSE Examination in the year 2004, from Mount Hermon School, but failed to qualify. Her ICSE Index No was T/1354/056."
"It then seems that Miss Annapurna Gurung the ICSE pass certificate of one Miss Nanda Gurung from Green Lawns School, Darjeeling," alleged Dasgupta. Green Lawns School ceased to exist a few years ago.
Read: It's advantage Mamata in the hill politics of Bengal
"With this pass certificate of Miss Nanda Gurung (D/O Purna Bahadur Gurung), Miss Annapurna Gurung took admission in Himali Boarding School, Kurseong in class 11 on 16.07.2004 impersonating herself as Nanda Gurung and continued her studies," the district magistrate wrote.
Though she has recommended action against the schools involved, Himali director Robindra Subba said, "When a student comes for admission from the same board in class 11, the documents required are only the roll number and the marksheet she got from ICSE. Since ISC is from the same board, we only have to send these documents to the council, which we did."
Uttam Kumar Majumdar, president of the Bar Association of Calcutta High Court, said he was aware of the letter but the association had no role in cancellation of license of any advocate. "The Bar Council can cancel the license, since they are the issuing authority. The election of the council is just over and the counting process is on. The new council will be formed by July 15 and only after that can any decision can be taken," said Majumdar.
Read: Mamata tightens grip on Darjeeling politics, creates development panel with GNLF leaders
Dasgupta refused to divulge any details beyond what was contained in her letter to the education department.
"I don't know anything about it," said a close associate of Bimal Gurung, on conditions of anonymity. "This matter is not of public interest. If there is any truth in the allegation, the administration will take steps," said Suraj Sharma, spokesperson of the Binay Tamang faction of the GJM.
Close