Lohri 2023: Is Lohri on January 13 or 14? All you need to know about date, puja timings and why is it celebrated
Jan 13, 2023 07:18 AM IST
Lohri 2023: Will the festival of Lohri fall on January 13 or 14? Find out the exact date, puja timings, why Lohri is celebrated and more inside.
The auspicious festival of Lohri is celebrated with much pomp by the people of Haryana and Punjab, especially from the Hindu and Sikh community. Also known as Lohadi or Lal Loi, Lohri falls a day before Makar Sankranti. On this day, people light a fire outside their homes or in open spaces with wood and cow dung cakes and offer sesame seeds, jaggery, gajak, rewdi and peanuts to the lit bonfire while doing Parikrama around it. They also harvest the crops and offer the bhog made using the same to the fire.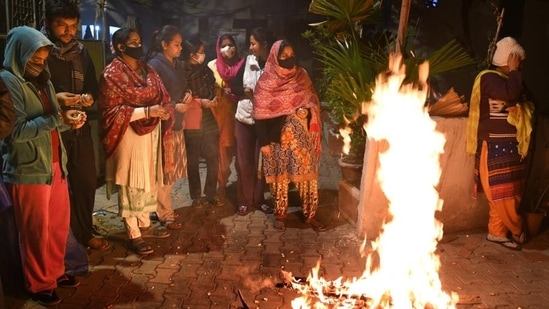 (Also Read | Lohri 2022: Mouth-watering traditional recipes to enjoy)
Is Lohri 2023 on January 13 or 14? Date and Puja Timings:
This year, there is confusion around the exact date on which Lohri should be celebrated. Many are confused about whether it falls on January 13 or 14. According to Drik Panchang, the festival of Lohri is on Saturday, January 14, 2023. It means Makar Sankranti will fall on Sunday, January 15, 2023. Moreover, the Lohri Sankranti tithi will be at 8:57 pm, and the Brahma Muhurta will last from 5:27 to 6:21 am.
Why is Lohri celebrated?
Lohri is a special festival which is related to the sowing and harvesting of crops. It also celebrates the arrival of warmer weather because after Makar Sankranti, a day after Lohri, the nights get shorter, and the days get longer. The bonfire, lit during the celebrations of this festival, represents the same idea.
On Lohri, people worship the new crop, light a fire outside their homes, express their gratitude to the Sun God (Surya Devta) and Fire God (Agni Devta), and wish for good crop production in the upcoming year. They also offer bhog made with the harvested crops, rewadi, groundnut, jaggery, gajak, and peanuts to the Lohri bonfire. Additionally, the Lohri celebrations involve people going around the fire (Parikrama) while singing traditional songs and dancing to the beats of dhol.