Malaika Arora starts Monday with a routine packed with Headstand and Bakasana
Feb 06, 2023 11:45 AM IST
With a range of yoga asanas, Malaika can be seen starting her week with a fitness high. Know all about the benefits of the yoga asanas here.
Malaika Arora is a fitness enthusiast. The actor, on multiple occasions, has been spotted speaking of the benefits of performing yoga on a regular basis. Malaika hardly misses a day from hitting the yoga studio. The actor believes in dedicating her focus and hard work into her fitness routine on a regular basis. The actor is often photographed in front of her yoga studio by the paparazzi. Malaika is currently trained by yoga trainer Sarvesh Shashi in his studio – Diva Yoga. Malaika swears by yoga – the actor spoke of the time in her life when she was going through a rough patch and she turned to yoga for solace. Since then, there has been no going back.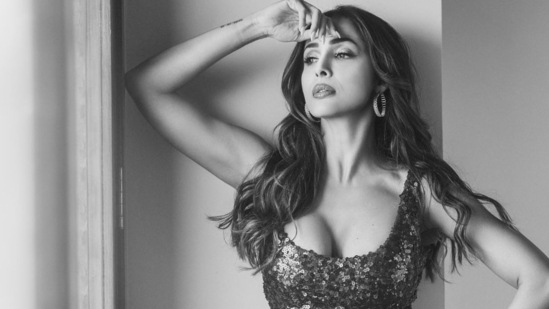 ALSO READ: Malaika Arora's yoga session with the wheel is the perfect kickstart to the week
Malaika's Instagram profile is replete with videos of herself performing several asanas. The actor kickstarts her day on a daily basis with a routine of yoga. She also shares the steps to perform and the benefits of respective yoga asanas on her Instagram profile. On Monday, Diva Yoga's official Instagram profile shared a video of the actor engrossed in an intense routine and starting the week with a fitness high. In the video, Malaika can be seen starting the routine with Bakasana, and then slowly transitioning to a headstand. Then she can be seen swiftly getting down and performing Cobras, before rounding off the routine with Balasana. With the video, Diva Yoga shared the importance of small progresses - "Sometimes we tend to forget that. Small progress is better than no progress. If you've not achieved your fitness or any other goals in the last month, remember that you are making progress. Even if it doesn't feel like it right now, trust me it will eventually show in your practice. Until then be patient with yourself. Show up for your practice every single day on the mat."
The routine performed by Malaika comes with multiple health benefits. Bakasana helps in targeting the core muscles and strengthening the arms and the shoulders. Headstand helps in strengthening the abdominal organs, core muscles and relaxing the mind. Cobras, on the other hand, stimulates the digestive organs and boosts digestion. It also helps in reducing back pain and improving the circulation throughout the body. Balasana, or the Child's Pose, helps in inducing better sleep, and relaxing the back and the spine.