Malaika Arora is ready for the weekend with yoga's Ubhaya Padangusthasana. Here's why you should try it too
Published on Nov 26, 2022 12:12 PM IST
Malaika Arora's new picture from the gym shows the star doing yoga's difficult Ubhaya Padangusthasana or the Both Big Toe Pose. Read why you should try doing this asana too.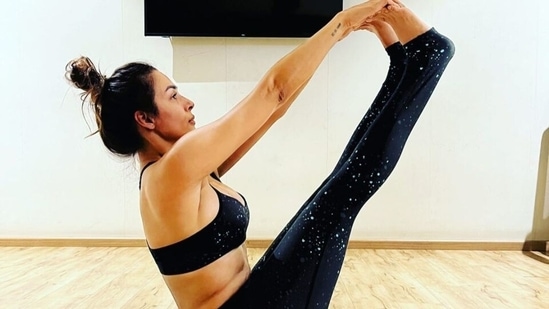 Malaika Arora has many things to look forward to in the coming weeks. For one, the star is making her OTT debut on Disney + Hotstar with a new show called Moving In With Malaika. Amid the promotions of the new series, which will give an up-close look at her life, she is also finding the time to hit the gym. Known for her fit body and healthy lifestyle, Malaika has inspired many. And a new post from her yoga session will motivate you to roll out the yoga mat to sweat it out on the weekend. Check out which pose Malaika did below.
Malaika Arora's yoga routine
On Friday, Malaika Arora's yoga trainer, Ravindra Rawat, took to Instagram to share a photo of her acing a difficult asana. Malaika got ready for the weekend at the gym with a balancing pose called the Both Big Toe Pose or Ubhaya Padangusthasana. It is a seated balancing yoga pose and is considered a challenging posture in the Ashtanga yoga series. The picture shows Malaika sitting on the yoga mat to form a V shape with her body by raising her legs in the air, keeping her back straight, engaging the core muscles, flexing her feet, and holding the toes with her hands. Check out the picture below. (Also Read: Malaika Arora shimmers in bralette, see-through skirt and blazer for new BTS video from Moving In With Malaika)
Ubhaya Padangusthasana Benefits:
Ubhaya Padangusthasana or Both Big Toe Pose tones your abdomen, applies acupressure to the big toes, builds strength, stretches the hamstrings, hips, spine and arm muscles, relieves back pain, improves flexibility, stimulates the nervous system, strengthens the core, and eliminates stress.
Meanwhile, the paparazzi clicked Malaika arriving at the yoga studio recently, dressed in the same black workout ensemble. It features a printed sports bra and tights set. While the top features thin straps, a plunging neckline, cropped hem and a racerback, the bottoms come with a bodycon fitting. She completed the look with a messy bun, flip-flops and no makeup.
Malaika's show Moving In With Malaika starts streaming on December 5.