Last train runs on Madhya Pradesh's 150-year-old heritage railroad route
PTI | | Posted by Akanksha Agnihotri
, Indore
Jan 31, 2023 08:13 PM IST
On Tuesday, the final train on the 150-year-old metre gauge rail line connected to the heritage railways in western Madhya Pradesh was signalled off.
The last train on the 150-year-old metre gauge rail line associated with the heritage railways in western Madhya Pradesh was flagged off on Tuesday as authorities halted train movement on the stretch indefinitely to facilitate its conversion into broad guage, an official said.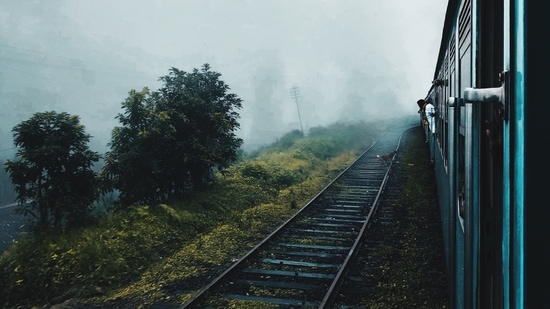 Eyewitnesses said passengers garlanded the train's loco pilot Daulatram Meena and his colleagues before the final journey began from Omkareshwar Road station. The line connects Omkareshwar, one of 12 jyotirlingas or most revered Shivlingas, to Mhow, the birthplace of Dr B R Ambedkar. (Also read: Luxury on wheels: Royal trains of India )
Mohammad Shahid, who boarded the train at Omkareshwar Road station, some 70 km from Indore, told PTI, "It's a sad feeling sad to witness the last journey of this train. This train was our easy and convenient means of commuting between Mhow (Dr Ambedkar Nagar) and Indore. Now we will have to travel by bus."
Khemraj Meena, public relations officer of Western Railway's Ratlam division, said that the line has been closed indefinitely due to the ongoing conversion of the 90-km line between Mhow and Khandwa into broad gauge.
He said the Mhow-Omkareshwar Road-Mhow passenger train service, which was being operated on this line, has been stopped indefinitely.
After the Patalpani-Kalakund section of the metre gauge between Mhow and Khandwa was declared a heritage track, the railways had started the Mhow-Kalakund-Mhow heritage train from December 25, 2018.
Railway officials said that the then Holkar rulers had given a loan of ₹1 crore for 101 years to the British in 1870 for laying a line to connect their capital Indore with Khandwa. The Khandwa-Sanawad section of this line was completed and trains were started from December 1, 1874.
Officials said this line was used to connect North India with South India and major passenger trains like Jaipur-Purna Meenakshi Express, Ajmer-Khandwa Express, and Jaipur-Kacheguda Mail were being operated on it.
Follow more stories on Facebook & Twitter
This story has been published from a wire agency feed without modifications to the text. Only the headline has been changed.