Amit Shah blames Mamata for roadshow violence, holds up 3 photos as proof
Recounting the violence during his roadshow on Tuesday, Amit Shah said: "I was lucky to escape, had the CRPF not been there, it would have been difficult for me to escape."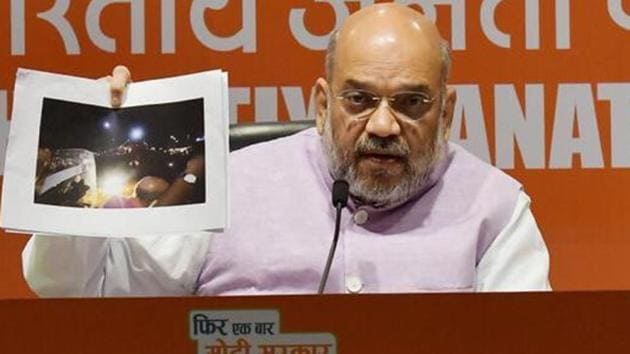 Updated on May 15, 2019 03:03 PM IST
Hindustan Times, New Delhi |
HT Correspondent
BJP chief Amit Shah on Wednesday accused the Trinamool Congress of orchestrating violence during his roadshow in Kolkata, presenting photographs to prove his point as the TMC, BJP sparring intensified in the slog overs of the Lok Sabha elections.
"We will not be intimidated by violence… Anger of Bengalis will translate into defeat for Mamata didi who is stifling democracy in the state," the BJP chief said.
"I just came to know that the Bengal government has filed an FIR against me, Let me tell them I am not scared of FIRs… so many of my workers have been killed in violent attack," said Shah of the state where the BJP has two sitting MPs of the total 42 lawmakers that the state sends to the Lok Sabha. Amit Shah's party is trying to make inroads in the state and has had frequent run-ins with the ruling party in the state in the run-up to and during the seven-phase Lok Sabha polls.
Read: In Amit Shah's attack on Mamata Banerjee, Election Commission also a target
Showing photographs to prove that Trinamool Congress workers broke the statue of Vidyasagar, Shah said, "the college gates were closed, room was locked … who opened the lock, BJP workers did not enter the college."
Recounting the violence during his roadshow on Tuesday, Amit Shah said: "I was lucky to escape, had the CRPF not been there, it would have been difficult for me to escape."
The BJP chief said signs of TMC unease were visible before the roadshow. "Modi's posters, my posters were torn in the morning… yet BJP workers were calm". Shah said that the roadshow started and support of people was overwhelming. "There were so many people and it was a peaceful rally," he added.
Read: 'Anarchy in Bengal but am arrested for a meme', says BJP's Priyanka Sharma
The Trinamool Congress and the BJP have blamed each other for the violence in College Street where a bust of iconic social reformer Iswarchandra Vidyasagar was vandalised in Vidyasagar College set up by him in 1872. The BJP alleged that stones were first thrown at them by TMC supporters.
Shah said the state government should order an independent probe into the incident but by a neutral agency.
The Trinamool has tried to portray the incident as one of Bengali pride, accusing the BJP of hurting local sentiments with the alleged attack. The party leaders, including Mamata Banerjee, replaced their social media profile photos with photo of Ishwar Chandra Vidyasagar to protest the alleged desecration of the bust of the noted reformer and key figure of the Bengal Renaissance.
Blaming Trinamool for poll violence, the BJP chief asked: Mamata Banerjee claims that BJP is doing it, I want to tell her, we are fighting in every state in the nation, unlike you on 42 seats in West Bengal. Violence didn't take place in 6 phases of elections anywhere but Bengal which proves that TMC is responsible for it."
Topics
Close Story