'Opposition fears us, that's why it is joining hands': Nitin Gadkari
In an interview, Nitin Gadkari spoke about the work done by his ministry, his personal ambitions, Opposition unity ahead of the 2019 elections, and the track record of the Narendra Modi government.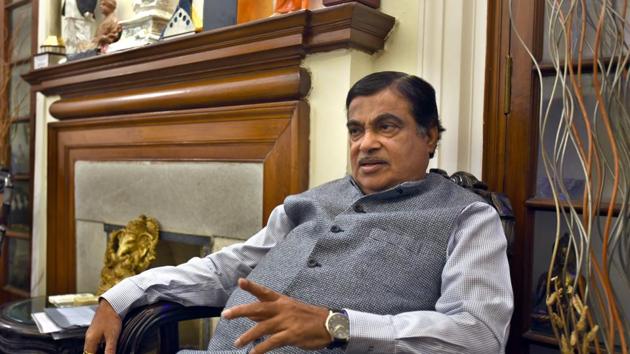 Updated on Mar 20, 2019 09:01 AM IST
Hindustan Times, New Delhi |
Anisha Dutta
Nitin Gadkari, Union Minister for Road Transport & Highways, Shipping and Water Resources, River Development and Ganga Rejuvenation, speaks to Anisha Dutta about the work done by his ministry, his personal ambitions, Opposition unity ahead of the 2019 elections, and the track record of the Narendra Modi government. Edited excerpts:
What is your assessment of the elections. Will the BJP come back to power?
Definitely. We will win more than 300 seats and will come back in majority.
In 2014, many opposition parties fought individually. When Opposition unity is becoming stronger, how do you think it will impact the elections?
In 1971, against Indira ji [Indira Gandhi], all opposition parties had formed a big alliance but it was completely finished. In politics there is no 'two plus two, four'. All these people who didn't like each other have now become best friends. The reason is they are scared of us, our strength has increased that is why they have come together out of fear.
But wherever they have formed an alliance, they have defeated you wherever by-elections have happened. In 2014, your vote share had increased by only 30-31%.
It is true that we had won on division of vote. But the work that the Narendra Modi government has done in the last five years — what has not happened over the past 50 years has happened in the past five years; that is why opposition parties are uniting against us. Another reason is also that we appear stronger, had we been weaker they would not have united. I believe if the people don't weigh in on caste, religion, language, they should support us. We have never done any division. We have done politics of development on one side and on the other they are doing politics of communalism and casteism and creating an atmosphere of fear.
The BJP government is often accused of using nationalism as a political tool for elections. The Prime Minister uses air strikes in election rallies. What are your views?
I feel one man speaks and others answer. I feel that questioning whether our jawans [soldiers] crossed the border and conducted such a mission is not a question on us but on the jawans too. Such issues should not be politicised. The jawans who sacrifice their life for the nation, their job should not be doubted. From our end also, we don't want to politicise it nor use it for seeking votes and opposition should also not get into such things. Some things are for the country's national security and we should rise above politics and think about it.
There is a general perception among many that you are one of the best-performing ministers in the cabinet. Suppose the BJP comes back to power, would you like to be in this ministry only?
People who know me closely know I'm very different. I am not a basic politician. In my constituency, I work with the farmers. I work with biofuels, I work in organic farming, I look into fruits and vegetables, I look into handloom and handicrafts. I run 1,100 schools in the Naxal belt. I got 9,000 heart surgeries done and run four hospitals. In Marathi, we call an MP a 'khasdar'. I am making 350 sports stadium and 150 gyms... I thought as an MP I am not just responsible for infrastructure development. Out of box innovation is in my nature, and I work very closely in social welfare also. These are all my interests, I don't think too much about politics.
In a situation where BJP doesn't get a majority, will you be the PM candidate?
I have said it many times and cleared the air. I always feel that politics is an instrument of socioeconomic reform. I have never put up any banner or poster of myself and have reached this level like that. I want to do something for this country. I am not any sadhu or sanyansi, nor a big philosopher or leader.
I have supported my family, using politics as an instrument of social reform; gaon, garib majdoor, kisaan, desh, samaj [village, poor, labourer, farmer, country, society] whatever best I can do for that, I will try my level best to do it. That is my feeling and I have been working like that. I do not have any PR machinery nor any contacts and nor have I projected myself. I have kept a low profile and focused on my work. When I was BJP president, I had to make a lot of statements. Now, I am busy focusing on my work.
You have changed your name to 'chowkidar' [watchman] on social media. Do you think this is validating Congress party president's narrative of 'chowkidar chor hai'?
Chowkidar means protector. You work for the media, and say you are the 'chowkidar' of democracy and work with honesty in the media. Anybody who does his work honestly is a 'chowkidar'. The Prime Minister said he protects the country and is a chowkidar and to express this sentiment that we are all chowkidars who work with honesty, the party told everyone to say we are all chowkidars. Our spirit of expressing this is different their understanding is different. They want to politicise it.
The government is credited with improving the highways sector. You bought in many policies to resolve stuck projects, including the hybrid annuity model (HAM). Are you happy with the progress?
The road ministry has saved Indian banks from non-performing assets (NPAs) worth ?3 lakh crore. When I became the minister, 403 projects worth ?3.85 lakh crore were stuck and the government was responsible for 90% of it. Land acquisition had not happened and some did not get the environmental clearances.
Out of all those projects, 45 were terminated, some projects were replaced, some projects where 50% work was completed were taken over. Approximately 97% of those projects have been resolved. Highways construction was 29 km [per day] till last March, and this March will be 34km per day against the target of 40km per day.
There have been issues of financing. HAM projects didn't get financial closures, second round of the toll-operate-transfer (TOT) auction was called off. The National Highways Authority of India (NHAI) debt is also increasing. Will all this add financial pressure on the sector?
There is one drawback, finance institutions are financing also at many places, but it hasn't been financed at the scale it was supposed to. When they do they don't do it on time, financial closure doesn't happen - it takes years in some cases. There are some finance-related issues. Banks are not so supportive despite the state of the highway sector. I am hoping that changes.
In TOT auction, there were certain things that went wrong, some projects associated with it were in certain locations and they could not take off. In our country, the most important thing is that the budget started at ?65,000 crore and this year has gone up till ?80,000 crore.
In around five years, we got ?4.5 lakh crore from the budget. Secondly, after the project is over, I can monetise it again. In the first TOT auction, we had expected to raise Rs 5,600 crore and we got Rs 9,400 crore. At present at least Rs 1.5 lakh to Rs 2 lakh crore of monetised projects are ready and that money can be re-monetised... I am only creating more wealth.
You introduced the Motor Vehicle Amendment Bill but failed to pass it in Rajya Sabha. Why did that happen?
It didn't get passed, what can I do? Lok Sabha passed it twice, and we went to joint selection committee, then to the standing committee, held multiple discussions then it was recommended unanimously and yet it wasn't passed. Some RTO [regional transport office] officials met me and said they will oppose it.
You said India will stop Pakistan's share of water post-Pulawama attack. What is the plan?
A treaty was signed in 1960 between Ayub Khan and Jawaharlal Nehru, called Indus water accord. It is written that India and Pakistan must maintain brotherhood, friendship and love. There are three rivers given to Pakistan as per the treaty, and three to India. At present, all six rivers originate from India. We have been unable to fully utilise water of the three rivers given to India. I gave the nod for two projects, there was infighting between Punjab and Jammu & Kashmir regarding one project which was resolved.
To get the water of our share was one issue. The other issue is that of the three rivers given to Punjab: Jhelum, Chenab and Indus. Now, we can't make a dam on it because of the accord, but in spirit it has been written that both countries must live in peace. But when you are bombing us in return, sending terrorist, then what should we do? A lot of people pressured me to build a dam and divert the water to our country. Pakistan needs to improve its behaviour .
There was a project on river linking initiated by the Vajpayee government which was put in the cold storage. Do you think your government has made good progress on it?
We have done a lot of progress. A total of 30 projects were identified where one river basin's water will go into another river basin's and I added six more to it. Out of total 36 projects, Detailed Project Report (DPRs) have been prepared for 17 projects. The whole river linking project will go up to ?10 lakh crore. We can solve all water problems, I can say that confidently. In this country there is no shortage of water.
What is the status of the Clean Ganga Mission? When can we expect it to be completely clean?
Work is happening for around 288 projects worth ?26,000 crore under the Clean Ganga Mission. In this, we are not just working on the Ganga; we are also working on its tributaries and channels. In Panipat-Sonipat, we completed two projects under the mission, In Delhi, 13 projects worth ?4,500 crore are being implemented with the Delhi government. We are also working on one project in Mathura on Hybrid Annuity Model where the unclean water was sold to Indian Oil where we are getting Rs 19 crore as royalty per year. In Agra, we are doing projects worth ?850 crore. In Kanpur, we are doing seven projects. We are doing 11 projects in Varanasi, 13 in Patna, around 9 projects in Prayagraj. We have done so much work but I feel we have done only 30% of the work .
This time in the Kumbh Mela, the Ganga was "aviral" [everflowing] and "nirmal" [untainted]. Yesterday, even Priyanka Gandhi was drinking Ganga's water. Earlier no one was drinking it. She did a boat ride on the waterways I made from Praygraj to Varanasi and she certified our work.
Is there anything in the past five years you want to change if the BJP gets five more years?
There is one thing that I want to do. I think out of the box and dream unexpected things that people don't believe. I have a target to develop waterways in Delhi. From Delhi to Mathura and Mathura to Agra, people can take sea planes and reach Agra in 15 minutes.
The waterways will go from Agra to Etawah to Prayagraj. In Prayagraj, I launched four water jetties,then built a water way to Varanasi and from there Haldia. One thousand six hundred and eighty kilometres waterways has been built so it will connect Delhi to Haldia. From Haldia onward, too, we have done dredging on Brahmaputra river and even till Bangladesh. So from Delhi to Bangladesh and the north-east you can travel on the waterways. DPRs [detailed project planning] of projects worth Rs 12,000 crore for developing Yamuna have also been prepared. My dream is that we can go via boat to Bangladesh from Delhi through hovercrafts, sea planes, aeroboats.
Over the past five years, what according to you has been the best step taken by the government? Is there anything you feel that should not have been done?
I will tell the best thing that I did. Among things, like cleaning Ganga and building express highways, the best work of my life has been bringing in e-rickshaws. When I became the minister, cycle rickshaws were pulled by men and it involved physical labour. I fought to change that, I went to Supreme Court also and fought. And I launched mechanised e-rickshaw in this country.
Under the BJP government, I think the surgical strike has been the best achievement. It brought a lot of peace in the country's mind. We are basically non-violent people, we don't want to take over anyone's land, we don't think like China. Whether its Tibet or Nepal, we think of them as brothers. The way we are being attacked by terrorism and the response that was given by our soldiers that gave us a lot of pride. This decision
Close Story