Can Shivpal's secular front pose a challenge to Akhilesh?
Even as Shivpal Yadav, the estranged uncle of Samajwadi Party (SP) president Akhilesh Yadav, on Friday announced that his newly-formed outfit Samajwadi Secular Morcha (SSM) will contest all 80 Lok Sabha seats in UP, a question is doing the rounds in political circles – 'Will he pose a real political challenge to SP?'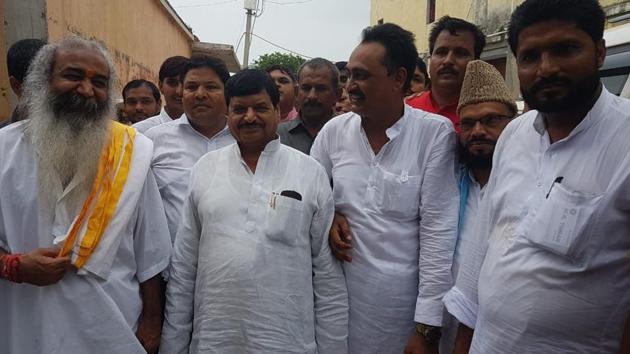 Published on Sep 01, 2018 04:24 PM IST
Hindustan Times, Lucknow/Meerut | By Pankaj Jaiswal/S Raju
, Lucknow/meerut
Even as Shivpal Yadav, the estranged uncle of Samajwadi Party (SP) president Akhilesh Yadav, on Friday announced that his newly-formed outfit Samajwadi Secular Morcha (SSM) will contest all 80 Lok Sabha seats in UP, a question is doing the rounds in political circles – 'Will he pose a real political challenge to SP?'
Developments are taking place in rapid succession ever since Shivpal announced the formation of SSM on Wednesday.
Shivpal's announcement on Friday appears to be an act in defiance of the stance of his elder brother and SP patriarch Mulayam Singh Yadav.
Shivpal announced the political ambitions of his outfit on a day when Mulayam in Lucknow said that the party and the family were united.
Mulayam also asked the party cadre to work unitedly to strengthen the party.
Skipping the ongoing monsoon session of UP Vidhan Sabha, Shivpal announced that SSM would contest all Lok Sabha seats in 2019 and all UP assembly seats in 2022 elections.
Shivpal's announcement was contradictory to what his son Aditya Yadav said in Kanpur on Thursday.
"He (Shivpal) and I are very much in the SP. The Morcha is not a political outfit. It has been formed to bring neglected SP leaders back in the party's mainstream," said Aditya, who is also the chairman of UP State Cooperative Federation.
The same afternoon, Shivpal was also seen touching the feet of SP national general secretary and cousin Ramgopal Yadav at an event in their ancestral village Saifai in Etawah.
Within 24 hours of Shivpal floating the new outfit, two significant developments took place that came as a blow to the estranged leader.
President of Suheldev Bharatiya Samaj Party (SBSP) Om Prakash Rajbhar, a disgruntled ally of the Bharatiya Janata Party (BJP) in UP, clarified that his party had nothing to do with Shivpal's Morcha.
Mulayam also visited the SP headquarters in Lucknow on Thursday and Friday thereby indicating that Akhilesh has his blessings.
Shivpal had met Rajbhar and Mulayam before announcing the formation of SSM.
A close aide of Akhilesh, who did not wish to be named, said: "Shivpal has only gained some sympathy but no real support. Though he called his outfit secular, he is only playing into the hands of communal forces."
In the last one year, Shivpal has met BJP president Amit Shah, UP chief minister Yogi Adityanath, ousted SP leader Amar Singh (who now supports the BJP), and SBSP chief Rajbhar several times.
Political analyst and former head of the department of political science at Lucknow University Prof SK Dwivedi said: "Shivpal is treading cautiously. He has floated an outfit that is not a political party. If he makes it a political party, then the anti-defection law will come into play and he will lose his Vidhan Sabha membership."
"It is true that Shivpal may not be in a position to become a political force against Akhilesh, or even otherwise, but he can certainly inflict some serious damage to Akhilesh and bring substantial gains for the BJP," he added.
Prof Dwivedi said Shivpal had many supporters in the SP and BJP could be the only party to gain from the entire drama. "Under these circumstances, Akhilesh should keep Shivpal with the party. It would be political wisdom," he added.
During the presidential polls in July 2017, Shivpal had embarrassed Akhilesh and inflicted a considerable blow to the SP by voting for BJP nominee Ramnath Kovind against the party whip of voting for Congress nominee Meira Kumar.
Almost after a week, three SP MLCs of Shivpal camp had vacated their seats to pave way for chief minister Yogi Adityanath, deputy chief minister Keshav Prasad Maurya and few more ministers to get elected to Vidhan Parishad.
All the three SP MLCs are now in BJP.
Shivpal had won the Jaswant Nagar seat in 2017 UP assembly elections on his own.
According to political analysts, bridges are not completely burnt for Shivpal yet, but he now looks as adamant as Akhilesh.
Akhilesh did not show any sign of reconciliation with Shivpal while he claimed that he waited for some responsibility in the party for over a year.
Moreover, whosoever from the SP has defected and attempted to form a separate political outfit in the past has failed miserably, Beni Prasad Verma and Amar Singh being the glaring examples.
Beni had rebelled against Mulayam and floated Samajwadi Kranti Dal ahead of the 2007 UP assembly elections but his party could not win even a single seat despite contesting from over 200 constituencies.
After being ousted from the party, Amar also floated Lok Manch and contested 2012 assembly polls intensively campaigning against the SP.
All the candidates, including Amar Singh, lost the elections and Akhilesh came to power with a majority.
Both the leaders eventually returned to SP. While Beni continues, Amar is no longer with the party.
TIMELINE: SP family feud
2018
■August 31: In Baghpat, Shivpal Yadav announces that his outfit Samajwadi Secular Morcha will contest all 80 UP Lok Sabha seats in 2019 polls. SP patriarch Mulayam Singh Yadav says in Lucknow that the party and the family are united.
■August 29: Shivpal floats new outfit Samajwadi Secular Morcha. Akhilesh refuses to react but suspects BJP has a role to play in it.
2017
■ October 5: Akhilesh re-elected national president of the party at the party's national convention in Agra. Mulayam and Shivpal skip the event but congratulate him.
■ October 3: Shivpal calls a press conference to announce the formation of an outfit in the presence of Mulayam but Mulayam restrains him at the last minute.
■ April 1: Mulayam says his son insulted him and voters understood that one who is not loyal to his father, cannot be loyal to anyone.
■ March 12: Mulayam defends Akhilesh after UP election disaster. He says no one person is responsible.
■ January 16: Mulayam accuses Akhilesh of having a negative approach towards Muslims.
■ January 3: In his meeting with EC, Ram Gopal says the party led by Akhilesh is the real SP and 90% of members are with him.
■ January 2: Mulayam approaches the Election Commission to stake claim over the party's election symbol.
■ January 1: Akhilesh appointed the new party chief by the national executive of the SP and Mulayam as mentor. Mulayam terms the rejig illegal and expels Ram Gopal for six years.
2016
■ December 31: Mulayam reinstates Akhilesh and Ram Gopal. Akhilesh convenes meeting of SP legislators where over 200 of 229 party MLAs turn up expressing their loyalty with him.
■ December 30: Mulayam expels Akhilesh for six years after he releases a parallel list of candidates.
■ November 17: Ram Gopal reinstated.
■ October 23: Ram Gopal expelled for six years after Akhilesh sacks three ministers close to Shivpal and Amar.
■ September 16: Mulayam rejects Shivpal's resignation. Sacked ministers reinstated. Shivpal gets back key portfolios.
■ September 15: Shivpal resigns as state president and minister. Akhilesh refuses to accept his resignation.
■ September 14: Shivpal camps in Saifai with supporters. Akhilesh blames 'outsiders' (Amar Singh) for rift. Amar denies involvement.
■ September 13: Akhilesh removes chief secretary Deepak Singhal considered close to Shivpal.
■ September 12: Akhilesh sacks mining minister Gayatri Prajapati and panchayti raj minister Rajkishore Singh.
■ August 15: Mulayam warns Akhilesh that Shivpal's exit will split the party.
■ June 27: Balram Yadav re-inducted into the cabinet. Shivpal skips swearing-in ceremony.
■ June 25: Merger of Mukhtar Ansari's Quami Ekta Dal (QED) into SP cancelled.
■ June 2: Mukhtar's QED merges with SP. Akhilesh sacks minister Balram Yadav for his role in the merger.
2015
■ December 29: Shivpal expels three close aides of Akhilesh for anti-party activities.
Close Story