Ticket row: Greeted by protests, Shah says good sign for BJP
Published on Jan 29, 2017 02:53 PM IST
BJP workers angry over ticket distribution to turncoats protested on Shah's arrival in Lucknow.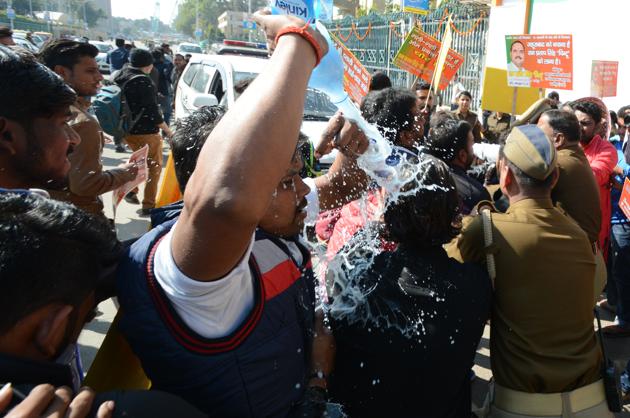 Hindustan Times |
, Lucknow
Manish Chandra Pandey/Pawan Dixit
BJP president Amit Shah faced protests over ticket distribution on his arrival at the airport and the party office here on Saturday.
Three agitators also tried to immolate themselves.
"Protests are a good sign for the party. It shows that the Bharatiya Janata Party (BJP) is winning UP assembly elections as everyone is demanding ticket," said Shah, while releasing party's manifesto at Indira Gandhi Pratisthan later in the day.
A large number of disgruntled BJP workers assembled outside the exit of the Chaudhary Charan Singh International Airport after getting information about Shah's arrival.
As the BJP chief came out of the terminal, agitators shouted slogans against him and demanded cancellation of tickets to turncoats.
The police had a tough time in getting Shah's cavalcade out of the airport. However, this was not the end of protests.
At the party office at Vidhan Sabha Marg, Shah was again greeted with protests by BJP workers who had come from all parts of the state to vent their ire over ticket distribution.
BJP workers Roshan Mishra, KK Pandey and Raghvendra Singh, along with others, had come all the way from Zahoorabad assembly constituency in Ghazipur to oppose party's alliance with the Suheldev Bhartiya Samaj Party (SBSP) on eight assembly seats in eastern UP.
The agitators accused national president of SBSP Om Prakash Rajbhar of conniving with other parties to harm the BJP.
As the protest continued, Roshan Mishra, KK Pandey and Raghvendra Singh tried to immolate themselves by pouring kerosene.
However, the police deployed outside the party office foiled the attempt and managed to arrest Mishra. Pandey and Singh managed to escape.
The agitators demanded ticket for BJP worker Ram Pratap Singh 'Pintu' from Zahoorabad assembly seat which has gone to SBSP under the alliance.
BJP workers from Manikpur assembly constituency in Chitrakoot also protested outside the BJP office to oppose the decision to give ticket to former BSP leader RK Patel, who joined the BJP just before assembly election. They demanded ticket for BJP worker Anand Shukla.
During his visit to Varanasi on Friday, state BJP president Keshav Prasad Maurya had to face the ire of workers who were agitated over the denial of ticket to sitting MLA Shyamdeo Roy Chaudhary, a seven-time MLA from Varanasi South assembly seat. Maurya had to visit Chaudhary's house to pacify the agitators.
The BJP leadership has been grappling with massive protests from party workers across the state after it announced tickets for the assembly elections.
The BJP has fielded many leaders, who joined BJP just before the election, in various constituencies in the state.