Sops, freebies dominate BJP, Congress promise to Madhya Pradesh farmers
Updated on Nov 28, 2018 07:47 AM IST
A loan waiver is the first item listed under the agriculture section of the Congress's manifesto. The BJP's manifesto, too, pledges bonuses and subsidised loans worth ₹40,000 crore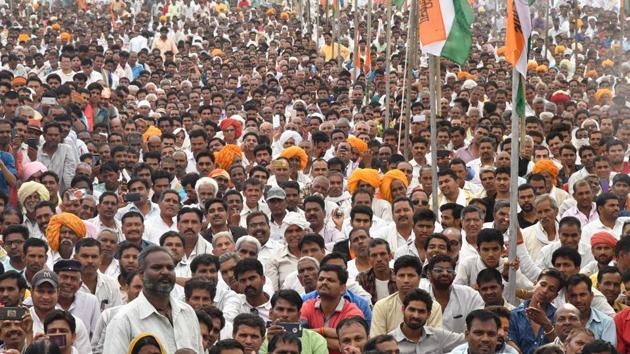 The poll manifestoes of the Bharatiya Janata Party (BJP) and the Congress for Madhya Pradesh have competing populist farm agendas, a comparison shows.
Both parties are promising large subsidies — from even higher minimum support prices (MSPs) to a spate of freebies -- but comparatively small commitments to public investments. Madhya Pradesh, a state that has witnessed violent farmers' protests, goes to polls on Wednesday.
A loan waiver is the first item listed under the agriculture section of the Congress's manifesto. The second item promises to cut electricity bills in half. The party has also assured bonus prices for virtually everything farmers grow: wheat, sugarcane, paddy, cotton, pulses, mustard, soyabean, garlic, onion and tomatoes.
MSPs are federally determined benchmark prices for farm produce. Bonuses over MSPs act like steroids: they help push up production, but also result in gluts. Such surpluses can cause prices to crash, ultimately hurting farm incomes. This is the key reason for the current farm crisis.
Read| Vote share of parties in the 2013 Madhya Pradesh assembly elections
The Congress has thrown in a ₹5 bonus for every litre of milk. The party has not stated if this is a "production subsidy" or a "price subsidy", meaning it is unclear whether farmers will get ₹5 for every litre of milk produced or every litre of milk sold. The Congress will also pay daughters of farmers ₹51,000 for marriage. Of the 24 points in the Congress's farm list, only one can be said to fall directly in the category of public investment: expansion of irrigation.
The BJP's manifesto, too, pledges bonuses and subsidised loans worth ₹40,000 crore. It has promised a direct cash transfer called "proportionate bonus" to small farmers, meaning the subsidy will correspond to their farm size and output.
At least in the forms they were released, the BJP's manifesto contains two provisions linked to investments, compared to the Congress's one. The BJP says it will build a farm-trade corridor, just like industrial corridors, apart from enlarging the irrigation area.
Read| How Madhya Pradesh voted in the 2013 assembly elections
Asked if politics itself is populist in nature, psephologist Sanjay Lodha of the Udaipur-based Mohanlal Sukhadia University said: "Not necessarily. But increasingly, there are hardly any ideological cleavages between political parties such as the Congress and the BJP now." One of the reasons for this, Lodha says, is that parties are "nibbling at each others' core constituencies".
A subsidy is a form of support in which the government pays money to lower the prices of resources needed for farming, such as fertilizer. Investment, on the other hand, refers to money that goes into creation of assets, such as irrigation.
Few economists would disagree that investment is necessary for growth in any sector. Recent research by economist Ashok Gulati of the think-tank ICRIER showed that every ~10 lakh invested on farm research potentially pulled 328 people out of poverty. A similar amount spent on fertiliser subsidy alone brought only 26 people above the poverty line.
Economist Uma Kapila says that while subsidies have their own merit, governments have raised inefficient input subsidies, which, in turn, have virtually turned the tap off for new investment. This has had the effect of choking off agricultural growth.
Personalise your news feed. Follow trending topics