Lights made-in-India to shine bright this festive season
The demand for Indian lights has taken over Chinese lights this year. Shopkeepers in Sadar Bazar are happily stocking and selling lights made in India, to fulfil what the buyers want.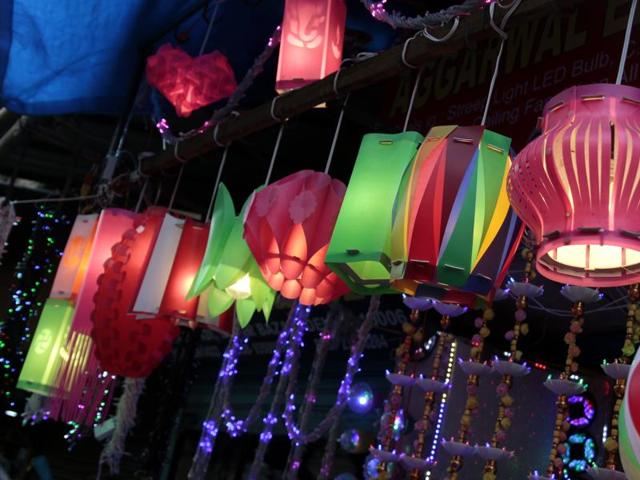 Updated on Oct 10, 2016 05:53 PM IST
New Delhi
The festival of lights is approaching and Delhi's biggest wholesale market Sadar Bazar, is packed with decoratives and lights. This time, however, contrary to the high demand for Chinese products, Indian manufactured lights are being preferred by shoppers.
"Everything that you see in our shop is 100 per cent Indian," says Manpreet Singh, co-owner of Kuku Light House in Pan Mandi, Sadar Bazar.
The sellers feel that the rise in demand for Indian lights might be because of two reasons - Prime Minister Modi's call for Swadesi and the recent online campaign against all Chinese products, which went viral post Uri attacks. "Whatever be the case, the change is definitely welcome to strengthen India-made products such as lights and handicrafts and Indian economy as a whole," adds Singh.
Singh informs that people are coming from every corner of the city to ask for Indian lights. "Log maang hi Indian rahe hain isliye humne Indian samaan rakhha hai. Badiya hai, aisa hi raha to agle saal se Chinese lightein band hi ho jayengi (People are asking for India-made lights, that is why we have stocked Indian products. If this continues then from next year onwards Chinese lights will be out of Indian markets)."
Manning his shop in the maddening festive rush Ankit Aggarwal, one of the owners of Aggarwal Electricals in Sadar Bazar, too agrees that Chinese lights might be banned from next year. He informs, "Chinese lights became a hit because they are more bright when they glow, as compared to Indian lights. But the India-made lights have a longer shelf life." The Chinese use innovating designs in a short span of time to attract buyers, says Aggarwal. "Of course people go for what's fancy... That's how the Chinese have captured our market. Though with the dip in Chinese products, the sellers might have to face losses, we don't mind it. "
Echoing his thoughts is M S Hosiery, owner of another shop. "We are okay even if Chinese lights are banned. Atleast people will value the products made by their own countrymen."
Close Story