Summer can be cruel on your pets too. Here are some tips to take care of your furry friends
If you own a dog or you can care for a street dog, save them from the heat by keeping them hydrated and don't serve them day old food in summer season, suggest experts.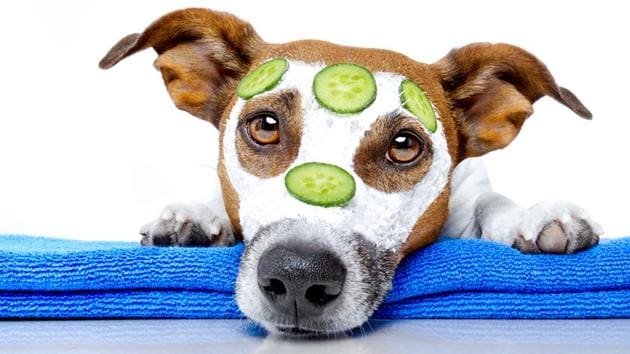 Updated on Apr 08, 2018 05:08 PM IST
The scorching heat takes a toll not only on humans but on animals as well. If you own a dog or you can care for a street dog, save them from the heat by keeping them hydrated and don't serve them day old food in summer season, suggest experts.
Rashi Narang, founder at Heads Up For Tails, and Akshay Kanitkar, director- operations at PetSutra, have listed ways for you to keep your paw-friends happy:
* Keep them indoors during the day: Do not take your pets for a walk during the scorching day hours. Ensure walks are restricted to only early mornings and post sunset during the summer months. Dogs are extremely sensitive to heat and apart from falling ill, they may also develop cracks on their paws due to walking on the hot concrete during the days.
Be sure to look at your dog's paws to check for discolouration, cuts, and bruises. Apply dog paw cream regularly and make them wear dog socks to prevent the paws from burning.
* Travelling: Avoid going for long drives with your pet, as the heat is too strong for him/her to handle. Also, do not leave your dog in your car during summers.
* Grooming and spa: Take your dog out for regular grooming sessions including a bath and trimming of coat only if necessary. Contrary to popular belief, it is not advisable to shave off your dog's coat in summers as their coats are protective layers that safeguard them from sunburns and heat strokes.
* Sponge with wipes: Since it is neither possible nor advisable to bathe your dog multiple times in a week, occasional wet wipe sponging followed by thorough drying and brushing of coat can also be a good way to remove dirt, allowing their skin to breathe better and cool off.
* Brush well everyday: It helps manage circulation of blood better and aids in temperature control. It also helps them shed dead hair making the dog feel lighter and more active.
* Include liquids in diet or moisten the food: To ensure the dogs are well hydrated during summer, it is advisable to moisten their food and also serve them healthy liquids like coconut water and homemade chhaach in small proportions, every now and then.
Change the water in their bowl every hour and keep an extra bowl of water, before going to bed. If your dog can't get the refreshment from you, then they might go looking elsewhere and that can mean a potentially dangerous situation. Higher temperatures can accelerate the growth of bacteria in standing water and thirsty pets can also drink hazardous liquids if they are parched.
* Take them for cool dip on the weekends: If your dog is comfortable with and exposed to swimming, nothing beats a good swim session and some fun splashing around in a pool. There are many pet exclusive pools that have hygienic pools for your dogs to dip in. Ensure that post-swimming the dog is rinsed well in normal water and thoroughly dried.
* Uneaten food: Just like human food, bacterial growth accelerates in dog food also, during summers. Avoid serving uneaten food to your pet if they tend to have it outdoors. Pets that eat their food inside can still have leftover food of last 4 to 5 hours; yet overnight left food is a big no.
Follow @htlifeandstyle for more
Topics
Close Story
Personalise your news feed. Follow trending topics