Chef Kshama Prabhu gives a new-age twist to breadfruit
Updated on Aug 01, 2015 10:50 AM IST
Breadfruit grows only in the monsoon. It looks like a jackfruit but tastes like potatoes. Discover the magic of this Mangalorean favourite.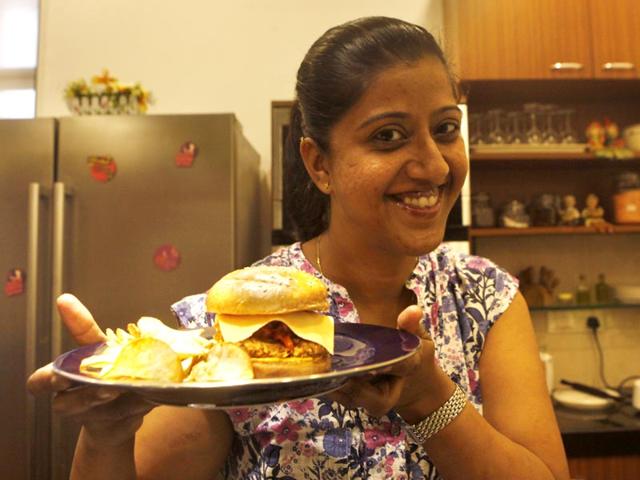 Rushina Munshaw Ghildiyal
A popular ingredient with the coastal Mangalorean community, breadfruit can be spotted in local markets during the monsoon. Known as 'Jeegujee' in Mangalore, this fruit belongs to the jackfruit family. However, once you cut it open, you will notice the difference. Breadfruit is seedless and slightly bland, and is similar to a potato. Kshama Prabhu, executive chef at The Bar Stock Exchange, digs into her roots to rediscover this age-old ingredient, and gives it a contemporary twist.
# Breadfruit and Cassava Burger
Recipe by Chef Kshama Prabhu
Serves: two
Preparation time: 30 minutes
Ingredients
For patty
* Breadfruit: 1 (approx 250g)
* Cassava: 250g plus some 100g for chips
* Finely chopped garlic: 3 tbsp
* Finely chopped onion: 3 tbsp
* Finely chopped fresh green chilli: 2 tsp
* Finely chopped celery: 2 tbsp
* Peri Peri seasoning: 2 tsp
* Salt: To taste
* Black pepper, crushed: To taste
For the pepper relish
* Roasted red pepper: 1
* Cherry tomatoes: 4-5 pieces
* Red wine vinegar: 1 tbsp
* Balsamic vinegar: 1 tbsp
* Chopped onion: 1 tsp
* Salt: To taste
For chilli mayo
* Mayonnaise: 3 tbsp
* Chili paste: 2 tsp
* Salt: To taste
For the burger
* Burger bun: 2 pieces
* Cheese slices: 2 pieces
* Fresh lettuce: As required

Method
1. For the patty, peel the breadfruit, cut it in small pieces and boil it in water till it is soft.
2. Grate the cassava and the boiled breadfruit.
3. In a pan, sauté chopped garlic, onion, celery and chillies.
4. Cool the mixture and mix it with the grated cassava and breadfruit.
5. Season with peri peri, salt and pepper.
6. Mix everything together and bind it with a little flour.
7. Shape the burger patty in rounds and cook them on a heated grill pan.
8. Get grill marks on the patty till it is nice and crisp.
9. Make the pepper relish by mixing all the ingredients together and chill it in the refrigerator.
10. Grill the burger bun and apply chilli mayo on both the sides.
11. Place a lettuce on the bottom half of the bun. Place the burger patty and onion rings (if required). Add the pepper relish on the top of the patty.
12. Warm the burger and serve with fresh cassava chips.
Rushina Munshaw Ghildiyal is the author of A Pinch of This, A Handful of That, and runs APB Cook Studio (apbcookstudio.com)
# Reader Recipe: Breadfruit Chako
Recipe by: Keerti Bhandary
Serves: three
Preparation time: 25 minutes


Ingredients
* Breadfruit: 500g
* Fresh grated coconut: ½
* Dry red chilli: 8 to 9 pieces
* Coriander seeds: 2 tsp
* Urad dal: 2 tsp
* Tamarind: As per taste (for tempering)
* Mustard seeds: 1 tsp
* Hing: 1/2 tsp
* Curry leaves: 10
* Salt: To taste
Method
1. Peel the raw breadfruit and cut into dices.
2. Pressure-cook it by adding salt and cook for three whistles.
3. Dry roast all the dry masala separately with just a touch of oil.
4. Make a rough paste of grated coconut and dry roast masala in the grinder.
5. Get the tempering underway by heating the oil and adding mustard seeds, curry leaves and hing (asafoetida).
6. Add the prepared paste in the tempering and give it a good boil. Do not add water.
7. Mash the cooked breadfruit and add to the boiled masala.
8. Adjust seasoning and a little water now to the mix.
9. Cook till semi-dry.
10. Add jaggery for taste (if required).
11. Garnish with fresh grated coconut on top.
12. Serve with hot roti.
Photo: Vidya Subramanian/HT photo; Location: APB cook studio
Photo: Istock images
(The writer tweets as @RushinaMG)
Close Story
Personalise your news feed. Follow trending topics