Khajoor Pe Atke movie review: Manoj Pahwa, Vinay Pathak's film lacks steam
Khajoor Pe Atke is lost in translation despite some good performances. Here's the movie review of Manoj Pahwa and Vinay Pathak's new film.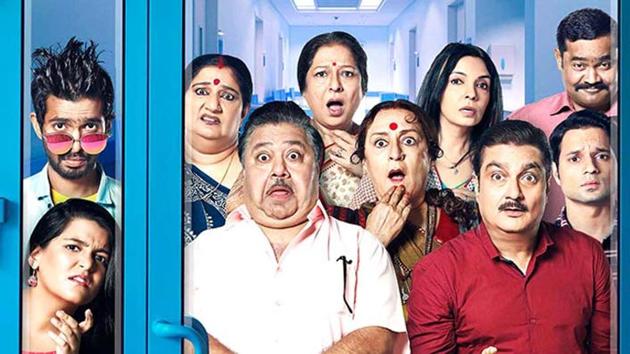 Updated on May 25, 2018 08:43 AM IST
Khajoor Pe Atke
Cast: Manoj Pahwa, Vinay Pathak, Seema Pahwa, Sanah Kapoor
Director: Harsh Chhaya
Rating: 2/5
Khajoor Pe Atke is a dark comedy revolving around a probable death in a family, but the film never touches the required urgency to ensure that the audience remembers it for long.
Actor-turned-director Harsh Chhaya doesn't waste much time in introducing the motives of his characters. Jeetendra (Manoj Pahwa) decides to go to Mumbai when he is informed about his younger brother's illness. Though the relationship of the two brothers has lost the warmth over the years, but childhood bonding doesn't die easily, so Jeetendra couldn't resist the urge of being at the bedside of his dying brother.
Jeetendra and his family are soon joined by the youngest brother Ravinder's (Vinay Pathak) family.
The hospital, where the second brother is admitted, turns into a conference room, and nobody is really concerned about the patient's health.
Video: In conversation with Manoj Pahwa, Vinay Pathak and Harsh Chhaya
Harsh Chhaya sets up the premise and lets the drama unfold. It works initially when families from small towns find Mumbai really tough to navigate. There are hilarious scenes between Manoj and Seema Pahwa, his wife in the film.
In fact, Seema Pahwa adds charm to the drama. Completely indifferent to the ongoing crisis, she keeps pushing her own agenda against everybody's will. She is cheeky, manipulative and brazenly funny.
Manoj Pahwa and Vinay Pathak stay away from slapstick humour, but they are never allowed to provide enough thrust to the relationship drama. Whenever a scene starts to gain momentum, the director decides to switch to another.
It also suffers from the problem of plenty. There are at least five plots jostling for screen space. In the end, none of them accumulates enough steam.
The director begins well but soon resorts to a predictable storyline. There are sequences that divert the attention from the central plot -- it's understandable though. He couldn't keep playing inside the same space for a long time.
Sanah Kapoor, Shahid Kapoor's real life sister and Manoj Pahwa's daughter in the film, is the only one who gets a chance to showcase her talent. Thanks to more screen time, she gradually adjusts to the premise. Her track stands out despite clichéd writing.
By the time climax kicks in, Khajoor Pe Atke has turned messy and is all about mistimed phone calls. You know, the type when characters trapped in tragic circumstances keep receiving phone calls from people all over the world. You have been there, seen that.
The goofiness of the situation keeps the viewers entertained for first few minutes, but then it gets stretched to a point where you can't even think of smiling. The endless wait for that one moment of resolution is the hallmark of Khajoor Pe Atke.
Despite a promising theme, Khajoor Pe Atke is somewhere lost in translation. Thanks to Manoj and Seema Pahwa's terrific comic timing, the audience bears to sit through this 120-minute botched up relationship drama.
Interact with Rohit Vats at Twitter/@nawabjha
ott:10:ht-entertainment_listing-desktop
Close Story