S Durga movie review: This is not a film, but a stunning abstract piece of art
S Durga movie review: The sharp commentary with subtle symbolism touches upon how we as individuals are forced to make choices that go against our beliefs to satisfy the society.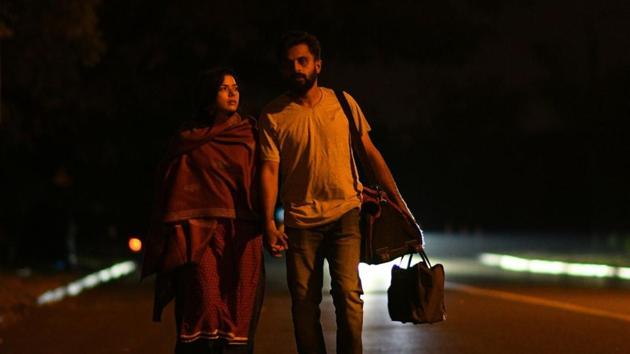 Updated on Aug 06, 2019 10:52 AM IST

S Durga
Director: Sanal Kumar Sasindharan
Cast: Rajshri Deshpande, Kannan Nayar
Rating: 4/5
Shakespeare said, "A rose by any other name would smell as sweet," and he is right. What is in a name really? Sexy Durga, or just S Durga, the film directed by Sanal Kumar Sasindharan is a trippy bit of art at work. It's about a couple — a Hindu girl and a Muslim boy — who elope and what happens to them in the next few hours.
Inter-religious marriage has different outcomes in Kerala, varying between families accepting the couple to honour killings. As Durga (Rajshri Deshpande) and Kabir (Kannan Nayar) prepare to leave Kerala for Chennai, we wonder what the outcome would be.
As the young lovers try to hitchhike their way to the railway station, the thought crosses, 'Is this going to be a crime thriller with either or both losing their life?' Throughout the film, you are caught in this web.
Durga and Kabir find a ride with smugglers moving weapons. The driver and his friend ogle at Durga to their heart's content with no thoughts of how she is affected. Kabir and Durga endure the situation, but soon it gets worse. They tell the driver to pull over to get away from the dirty stares and the grating questions. Initially, you are just frustrated — at the society at large for accepting such lecherous behaviour.
Even as a viewer, you do not take it seriously. Then, the couple tries to get another ride, only to come across two older men who harass the duo. These two men make demeaning comments, pass judgements about the couple's character. The director holds a mirror to the society that we live in today. Even as the character struggle, we are stifled by how incredibly close-minded the society is today.
Now imagine this happening in a loop. The realistic approach of filming this series of events pulls you in. Especially if you are a woman watching the film, you begin empathising. You understand what Durga is going through and as the film proceeds, you are engulfed in the same fear as she.
In a particularly hard-hitting scene, the men who initially give the couple a ride while convincing the couple to join them again ask, "Did we hurt you at all during this time? Did we misbehave with 'chechi' (Malayalam word for sister, also used to address women with respect) at all?"
Disbelief floods your mind. In fact, just minutes before they make distasteful comments when Durga says she wants to pee and now they ask if they hurt her at all. The society is blind to how hateful their comments could be and ignores how it is not just physical abuse that counts, but verbal abuse too. This one scene nails it.
At 1 hour 30 minutes, the film's pace is not fast. In fact, Sanal's signature shots of the surroundings of his characters are present, adding to the uncertainty. He drives in the fact that Durga and Kabir are the prey and every man they come across a predator. He is also not interested in etching the character background or the whys of their action. Like why did they not have a vehicle arranged? Why did the friend not help? Why did they think it was okay to hitchhike in the outskirts where roads are notorious for unlawful activities.
We assume its desperation. Desperation to leave and begin a new life. Each scene is open to interpretation. S Durga is not a mere film, but an abstract piece of art that has endless possible nuances that you can discover.
The high point in the film is the juxtaposition of a festival that celebrates Goddess Durga and this mini-van with one Durga in it. The celebratory dance as the devotees invoke the Goddess's name and the very predatory behaviour of the men in the van, flitting back and forth takes your breath away.
The sharp commentary with subtle symbolism touches upon how we as individuals are forced to make choices that go against our beliefs to satisfy the society, and yet we do not make an active move to break free from the trappings long enough. We might escape it for some time, but it doesn't last. S Durga is a film that needs to be celebrated for its beautiful treatment of a complex subject.
Author tweets @Priyanka_S_MCC
Follow @htshowbiz for more
ott:10:ht-entertainment_listing-desktop

Close Story