Thirunaal review: This Jiiva-Nayanthara starrer is a romp of rowdies
Hindustan Times |
, Chennai
Gautaman Bhaskaran
Aug 05, 2016 05:49 PM IST
Credible performances by both Jiiva and Nayathara are lost in a maze of pelvic thrusting, vulgar dances and swing of sickles in the Tamil film, Thirunaal.
Thirunaal
Director: PS Ramnath
Cast: Jiiva, Nayanthara, Karunas, Sharath Lohithaswa
Rating: 1/5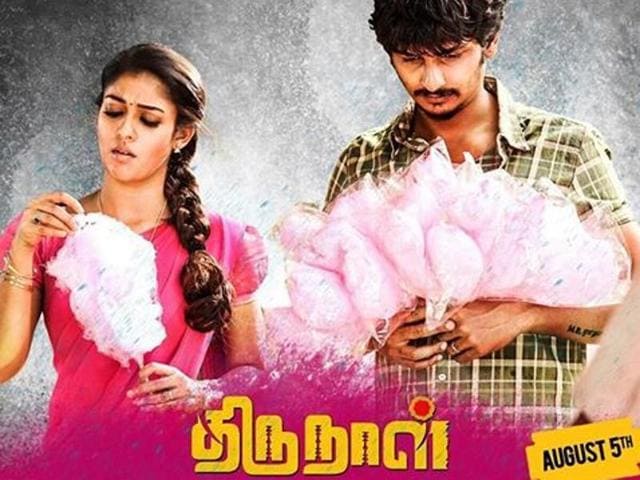 Ramnath's Thirunaal in Tamil can at best be summed up as a romp of rowdies, punctuated by pelvic thrusting, horribly vulgar dances, swing of sickles, spurting blood and a love affair between a school teacher and, well, a lungi-clad goon.
One never completely understands the head or tail of a plot in which the heroine (played here by Nayanthara, and called Vidya), an affectionate schoolteacher from a modest but respectable family, flips for a rowdy, unlettered and uncouth, essayed by Jiiva. His screen name is blade, and if this was not horrendous enough, he keeps a blade in his mouth, and when he spits it, it hits the jugular!
Read: Tamilselvanum Thaniyar Anjalum review | An important subject handled with inanity
If all this was not adequate to paint the canvas red, Blade is an orphan who has been "reared' by a notorious goonda, Naga (Sharath Lohithaswa), whose partner in business (though this is clean) happens to be Vidya's father. When he is cheated by Naga, lover-boy Blade is not happy -- leading to his friction with his boss.
Watch the trailer of Thirunaal here:
Read: Dhilluku Dhuddu review | Santhanam loses out in the ghostly mishmash
We know where the story will veer to after this with a script that is often crowded with characters and floundering without direction. Thirunaal, however, does have some above average performances. As a roadside rowdy, Jiiva often emotes with flair and feeling, and Nayanthara, though meant to be a flower-vase on the mantlepiece, manages a nuanced piece of acting, conveying with a fair degree of conviction her dilemma in the arms of a man, who is, at best, a societal outcast with a crime on his conscience.
What, to me, appears as a no-no is the kind of extolling that takes place in Tamil cinema -- of anti-social elements. They are put on a pedestal and celebrated to the hilt, and offences like stalking are given a clean chit -- making them look like perfectly acceptable social behaviour. Thirunaal is just one example.
ott:10:ht-entertainment_listing-desktop