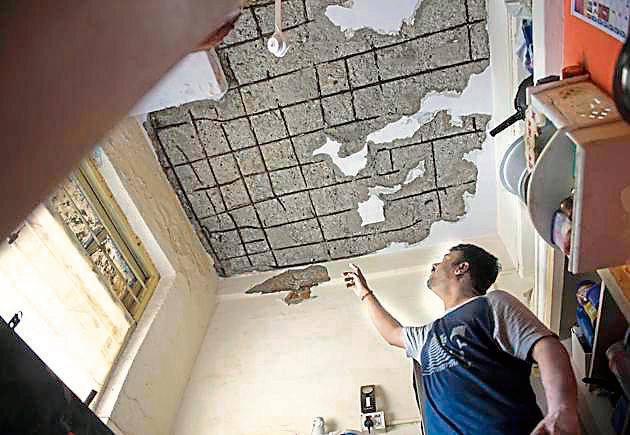 1,600 families in Mumbai's Government Colony live in dangerous homes
Years after the state promised to redevelop the 60-year-old colony, families of staffers are still living in unsafe conditions
Hindustan Times | By Geetanjali Gurlhosur
, Mumbai
UPDATED ON APR 02, 2018 02:50 PM IST
The government has asked more than 1,600 of its staffers to vacate their dilapidated houses in staff quarters in Government Colony in Bandra East. Years after the government's public works department (PWD) promised to redevelop the 60-year-old colony, families of staffers are still living under dangerous roofs of their poorly-maintained apartments.
Since November 2017, PWD has been issuing notices, stating that it cannot afford structural repairs of the quarters and that residents should move out immediately. Further, it has stated that if residents do not move out, the government would not be responsible for loss of life or damage to property.
HT visited the Colony and saw parts of walls, ceilings and pillars missing in many houses. Supporting beams of the buildings have lowered with weight and moss has eaten into walls.
The PWD said it plans to use advanced technology from Nagpur to repair and strengthen the foundation and support beams of the structures.
"Apart from the 1,600 houses, we have identified 700 more that are dangerous to reside in. On priority basis, this technology will be used to temporarily increase the lifespan of the structures," PWD minister Chandrakant Patil said.
The state government has planned to develop the colony, spread on a 93-acre land, with the help of Korean Land and Housing Corporation, an undertaking of the South Korean government.
Three blocks, consisting of 12 buildings each, have already been vacated in the last three years. The 270 houses were demolished and families were shifted to other empty houses in the Colony.
Last year, the ceiling in the house of the Gaikwad family fell, but they have not moved out. Ankita Gaikwad, wife of government employee Areratna and mother of two, said, "I sent a letter to the PWD to fix the ceiling immediately. But they sent an evacuation notice in reply to my letter. After sending in more complaints, PWD workers finally fixed the ceiling a couple of days ago. But, the work is so shoddily done that I am scared it would happen again."
As rent for the house, the government deducts 30 percent from its employee's salary. Another Rs250-Rs500 is collected from each employee as house maintenance charges. Residents said that despite paying these charges, little repair work was taken up and that too, done haphazardly.
The Satpute family, that has lived in the quarters for two generations, said the buildings used to be maintained well earlier.
Panchpula Satpute, 62, said, "Some 20 years ago, even if we complained about a broken window, the responsible authority would fix it immediately. Now, they just make excuses even if the whole ceiling comes down."
President of Government Colony Residents' Association (GCRA), Rajeev Ambadekar said, "We pay so much rent and maintenance charges. Still, no major repair work has been done in the last two years."
The condition of the houses worsen during monsoons, said residents. According to a civil contractor, who spoke on condition of anonymity, said the floodwater does not flow out of the Colony because of low-lying drains and roads on higher ground.
Resident Vilas More, a class III government employee who has been living in the Colony since 1971, said, "Every year, we face severe leakages during rains. A slab almost fell on my son once who was sitting in the balcony last year. But no one came to make repairs."
There is fear among the residents--fear of living in dilapidated structures that collapse any day. However, they added, there is no other viable housing option.
Santosh Sawant and his family, who moved to the Colony just four years ago, received a notice to vacate their apartment on February 14.
"We shifted to the colony from Thane. Now, suddenly we have been asked to evacuate this place? Where will we go from here?" questions Sawant.
In response to this question, Patil said, "We have provided 1,100 new houses in Ghatkopar to the affected families on rental basis but they have refused to move there."
Families are unwilling to move so far away from their offices and schools. Ambadekar suggested that the government build new towers in place of the demolished buildings and shift families there till more towers are built.
"There is no need for us to move outside the Colony. The redevelopment work can be done in phases," added Ambadekar.
Close