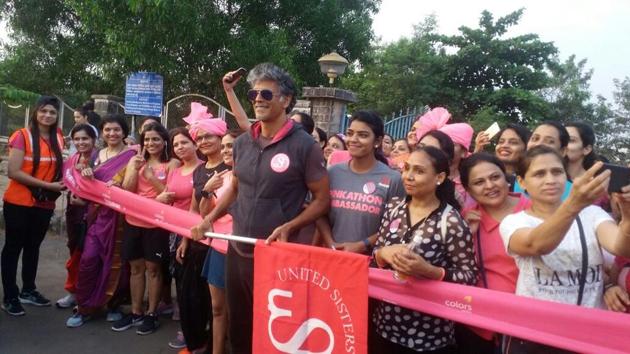 2,500 women run for better health, for selfies with Milind Soman at Navi Mumbai Pinkathon
The early morning run started off in Kharghar
UPDATED ON APR 07, 2018 03:24 PM IST
Kharghar's Central Park turned pink early Saturday morning as around 2,500 women, across all age groups, participated in the Pinkathon run with its founder Milind Soman. The Navi Mumbai event, organised by Pinakthon ambassadors, started at Central Park in Kharghar.
Running groups from Kharghar, Nerul, Belapur and Ghansoli participated in the event, but there were also many women who were first-time Pinkathon runners.
Dr Suju George, one of the organisers and a Pinkathon brand ambassador, said: "Women participated in the 5km and 10km runs. There was also a 1km walk for mothers with their babies.The event was free of cost for participants,, and the only thing mandatory was prior registration."
Around 30 women participated in 1km walk carrying their babies.
Most women wanted to click selfies with the model-actor, who made them do push-ups before posing for the selfie. Talking about the event, Soman said: "I am glad to be here and to see that so many women have turned up for the early morning run."
He added: "Stop cheating yourself, come out of your house and run for your health. If a woman is healthy, she inculcates healthy habits among family members as well, so run for your health."
Ananya Verma, 24, a resident of Kharghar who participated in the run, said: "It was a great event. I registered for the event to get a selfie with Milind Soman, and, of course, to explore the joy of running. I want to graduate as a runner and participate in more events."
Differently-abled Chembur resident Rajni Shinde, 42, went all the way to participate in the run. "I have been preparing to run, and I make sure to walk every day. This is the first time that I have come here for the run. Seeing many women runners inspired me to beat all odds and take up running. It gives me immense joy to run, and I will continue to participate in such events in the future."
Close