Born deaf, abandoned a day after, 5-year-old from Gujarat receives the gift of hearing
Hindustan Times |
, Mumbai
Sadaguru Pandit
May 15, 2019 11:47 PM IST
Harsh was found abandoned in the toilet of GK General Hospital in Bhuj in 2014
Doctors in Mumbai have successfully completed a cochlear implant on a five-year-old deaf boy from a Gujarat orphanage, allowing him a chance to hear sounds for the first time.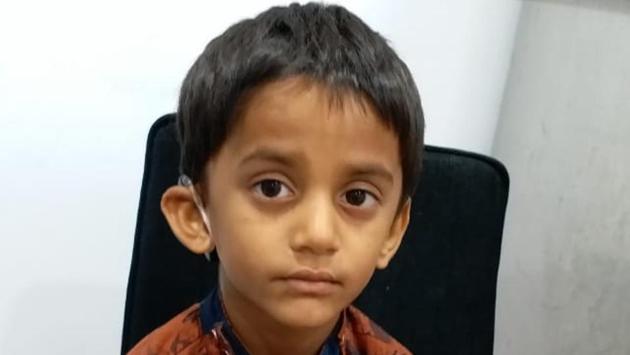 Harsh was found abandoned in the toilet of GK General Hospital in Bhuj in 2014, a day after his birth. His parents could not be traced and police assigned him to a local shelter for abandoned children.
"After legal formalities, he was taken to Kutch Mahila Kalyan Kendra — a group that runs homes for destitute orphans and adults," said KJ Jadeja, assistant sub-inspector, Bhuj (B division) police station.
When workers at the orphanage realised the baby was not responding to sounds or words from them, they tried therapy sessions. "We took him to the local Dhanvantari Hospital where physicians informed us that he has congenital hearing loss which has also affected his speech," said Illa Mehta, head of Kutch Mahila Kalyan Kendra. "We also visited Ahmedabad Civil Hospital to seek treatment for his disability but failed to avail any medical solution," she added.
However, in July 2018, there was new hope for Yash after he attended a hearing screening camp organised in Bhuj by the ear nose throat (ENT) department of Kokilaben Dhirubhai Ambani Hospital as a part of its health outreach program, 'Suno'.
Dr Sanjiv Badhwar, head, and neck robotics surgeon and consultant ENT specialist who was a part of the project said through a series of tests, Harsh was diagnosed with severe hearing loss in both ears. The doctors said the boy had no option but to undergo a cochlear implantation which costs around ₹6-7 lakh.
"We realised that the child won't be able to afford the surgery, so we invited him to Mumbai for free-of-cost surgery and treatment. Harsh underwent the operation for a cochlear implant in his right ear in January 2019 and shortly after, he was able to respond to sounds," said Dr Badhawar. He then underwent five months of therapy for speech in Bhuj under Dr Gaurang Joshi and made repeated visits to Mumbai for his post-operative training and counselling.
"Harsh is now able to speak disyllabic words and there is a gradual increase in his vocalisations. Behaviourally, there is an improvement in his response and localisation to sounds," said Dr Joshi.
On Harsh's last visit to Kokilaben Dhirubhai Ambani Hospital on May 10, doctors who undertook the surgery announced that there was significant improvement in their patient's speech and hearing capabilities. "We have successfully treated his hearing loss and he will continue to visit the hospital for the next 18 months. In the meantime, we will also track his speech development and remain in constant touch with his speech therapist until completion of his treatment," said Dr Badhwar.
There is no plan to do a cochlear implant in the other ear because of the cost. "We are really happy for Harsh. He is showing confidence and an eagerness to learn thanks to his new-found ability to hear and speak. We hope he finds a family soon," said Mehta.