Drones to monitor mangrove cutting at Mumbai's flamingo sanctuary at Thane
Jun 01, 2017 09:38 AM IST
Mumbai city news: Mangroves are salt-tolerant plants that protect the city's coastline from inundation. Rampant destruction occurs across the city, although there are laws to protect the trees
Drones are likely to soon keep vigil on the city's mangroves, with the authority in-charge of protecting them asking the government for two drones to monitor destruction of mangroves and to keep encroachment in check along the Thane creek. The Thane creek, which is Mumbai's flamingo sanctuary, also includes the Airoli and Vashi creeks.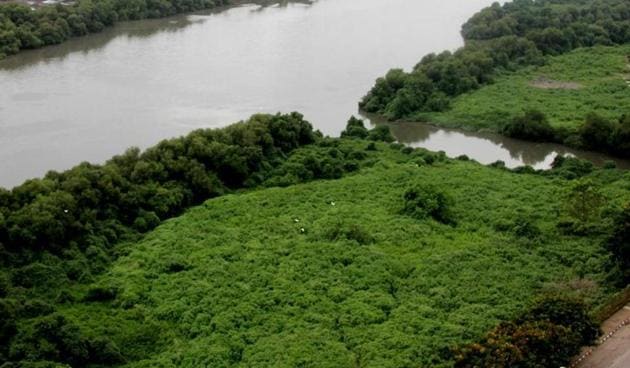 The drones will relay real-time images and videos of the mangrove biodiversity to visitors at the Coastal and Marine Biodiversity Centre, Airoli, Navi Mumbai, which opened in April.
Stay tuned with breaking news on HT Channel on Facebook.
Join Now
A drone is a remote-controlled, unstaffed aerial vehicle that can provide a 360-degree view during its flight. Each drone is likely to cost Rs50 lakh and the proposal is likely to be cleared subject to security clearances, said officials.
Mumbai has witnessed 80 cases of mangrove destruction – 74 on private land (under the revenue department) and six on government land (under the forest department) between January and April. Violators have gone undetected as no arrests or convictions have happened in any of the cases yet.
READ: Mangroves outside Mumbai Metropolitan Region are not protected by state cell
Mangroves are salt-tolerant plants that protect the city's coastline from inundation. Rampant destruction cases occur across the city although there are laws to protect the trees.
"There are many patches within dense mangrove forests that are inaccessible," said N Vasudevan, additional principal chief conservator of forest, state mangrove cell. "The drones will help us identify illegal constructions, encroachments and mangrove destruction at these patches. We are awaiting resp-onse on the proposal as it requi-res security clearances from the state and Centre."
In August last year, the state declared the northern part of Thane creek as a flamingo sanctuary. It is spread over 1,690 hectares. The Mumbai Mangrove Conservation Unit, under the state mangrove cell, was given the responsibility for the management of the sanctuary. "The drones can be fed an automatic flight path and will be controlled under complete supervision of our technical team," said Vasudevan.
There still, however, will be limitations. "Drones require batteries to function and vigilance over mangrove forests is required on a real-time basis," said P Srivastava, additional principal chief conservator of forest, information and technology division, state forest department. "What happens when the drones run out of battery? There are aesthetical advantages such as getting top angle videos and images but the limitation is that they will be time-bound."