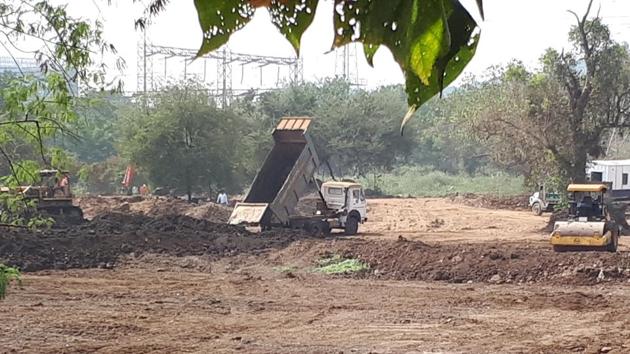 Green tribunal halts debris dumping, cutting of trees in Mumbai's Aarey Colony for Metro
At a hearing in New Delhi, the NGT upheld the order issued by the tribunal's Pune bench in August 2015, saying it cannot be breached.
UPDATED ON MAY 15, 2018 10:32 AM IST
The National Green Tribunal (NGT) has restrained the Mumbai Metro Rail Corporation Limited (MMRCL) from carrying out any debris dumping, reclamation of land and felling of trees at the area allotted for the Metro-3 car shed in Aarey Milk Colony till July 10.
At a hearing in New Delhi on Monday, the NGT upheld the order issued by the tribunal's Pune bench in August 2015, saying it cannot be breached. While activists have welcomed the tribunal's decision, there remains a lack of clarity about whether there is a stay order in place to prevent MMRCL from going ahead with its plan of constructing a car shed in Aarey Milk Colony. "MMRCL will examine the NGT order and shall take necessary steps after studying it," said a MMRCL spokesperson.
"There is finally some relief for us," said Stalin D, one of the applicants in the matter and director of the NGO Vanashakti. "MMRCL insisted there was no stay order but the judge refused to entertain the contention and reaffirmed that there is a status quo, which must be complied with," he said.
Aarey Milk Colony is one of the last remaining green lungs in the city. A 30-hectare patch has been allocated to build a car-shed for the Metro-3 line (Colaba-Bandra-SEEPZ). Vanashakti and another NGO, Aarey Conservation Group, filed a petition with NGT's Pune bench, in June 2015. They sought long-term protection for Aarey Milk Colony and asked that it be categorised as a forest for its protection.
In August 2015, NGT's Pune bench passed a status quo order restraining any construction activity inside Aarey Milk Colony and directed the Brihanmumbai Municipal Corporation and the forest department to not issue further no-objection certificates for construction within this eco-sensitive zone. Abhishek Jebraj, counsel for the applicants, said this August 2015 order was reiterated on Monday by the NGT in New Delhi. "The government agencies must have respect for the sanctity of the NGT orders," he said.
"MMRCL was anyway not carrying out any of these activities (debris dumping, cutting down trees and land reclamation), and we told the bench the same through an affidavit," said advocate Kiran Bhagalia, counsel for MMRCL, responding to NGT's decision on Monday. "MMRCL's attempts to delay and deny justice has been seen through by the NGT. Even today, they continue to work on the ground without any permission and are trying to stand above the law. They are bulldozing the land only to show custody and generate floor-space-index (FSI) profits," said Stalin.
MMRCL, on Monday, submitted an affidavit denying the charges that it had cut down trees or dumped debris in the disputed area since July 2017. MMRCL also stated that the status quo order from August 2015 had no directions against MMRCL and under authority of the state and various laws, MMRCL had full authority to carry out construction. It also denied that the area was a forest. The affidavit will be discussed on July 10.
Close