Lost leopard cub reunited with mother after two-hour rescue operation in Maharashtra
Updated on Nov 07, 2017 03:08 PM IST
Cub was likely left in the safety of a sugarcane field in Shirur, Pune, when mother was going on hunt, said experts who released it and saw the mother carry it away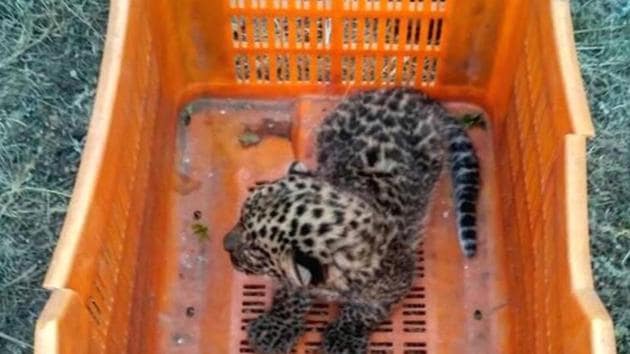 A one-month-old male leopard cub, lost in a sugarcane field on the outskirts of Sablewadi village in Shirur, Pune, was reunited with his mother following a two-hour rescue operation on Sunday evening. The operation was conducted by forest department officials and a team from Wildlife SOS, an animal rescue group that runs the Manikdoh Leopard Rescue Center (MLRC) in Junnar, 50 kilometres from Sablewadi.
After medical examination, veterinarians declared the cub fit to be released into the wild, where he was carried in an open crate. The rescue team observed from a distance as the mother emerged from the forest and carried it away.
It is common for leopards to leave their cubs in the safety of thick sugarcane and plantain farms when they go on a hunt. Forest officials and local animal welfare groups have reunited 26 leopard cubs with their mothers across four districts – Junnar, Ambegaon, Khed and Shirur – in Junnar forest division over the past two years. This is the ninth case this year.
Dr. Ajay Deshmukh, senior veterinarian at MLRC, explained that it was crucial to reunite the cubs with their mothers rather than keep them in captivity. He said: "Since leopards are territorial animals, it is essential to release the cubs in the vicinity of the rescue area. Initially, scared villagers insisted that the cub be taken away from the area for their own safety. However, they were more understanding of the situation once they realised that the enraged mother could pose a bigger threat."
Kartick Satyanarayan, co-founder and CEO of Wildlife SOS, added: "The reunions are integral to the protection of the leopard population. In order to learn skills for survival in the wild, it is crucial for leopard cubs to be reared by their mothers for the first two years of their lives."
Personalise your news feed. Follow trending topics