Watch: Maharashtra CM's helicopter crash-lands, Devendra Fadnavis safe
Hindustan Times |
, Mumbai
HT Correspondent
May 25, 2017 09:27 PM IST
The chief minister had gone to Latur to participate​ in BJP's farmer outreach programme.
Chief minister Devendra Fadnavis and three others escaped unhurt after a helicopter carrying them crash-landed soon after it took off from a helipad at Nilanga in Latur district of central Maharashtra.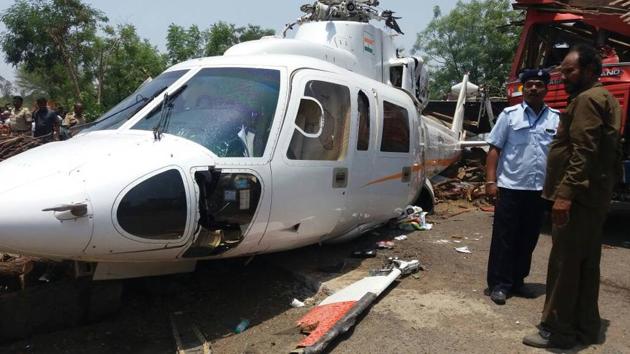 The CM had gone to Latur to participate​ in BJP's farmer outreach programme, with principal secretary Pravin Pardeshi and staff Abimanyu Pawar and Ketan Pathak.
TV clips show the helicopter crash-landed near a slum like area at Nilanga close to the helipad from where it took off. An ST bus in the vicinity got damaged. "The pilot decided on an emergency landing within 2 minutes of take-off. The helicopter didn't crash-land, but got caught in wires while landing. We experienced sudden jerks, but no one suffered any injury. The CM has called for a detailed probe into the incident,'' said Ketan Pathak, officer on special-duty (OSD) with the CMO.
The chopper is owned by Maharashtra government. "I will now go to Latur and from there to Mumbai. I am fine, nothing to worry," said Fadnavis.
He also released a video to tell citizens he is safe. Watch
Fadnavis also tweeted about the incident, saying, "There is nothing to worry."
The DGCA released a statement about the incident: " Maharashtra Govt Sikorsky helicopter VT-CMM took off from Nilanda SE of Latur at 1200 hrs. There were 06 persons on board, including 2 crew members. Hon'ble CM of Maharashtra was also on board. After take-off, pilot found variable wind pattern. Pilot decided to land back. During landing, the helicopter got entangled in wires. The helicopter has sustained substantial damage. All six persons are safe and escaped unhurt. Spoke to commander of the flight as well as Hon'ble CM. Both informed well being of all occupants."
Shiv Sena chief Uddhav Thackeray called up Fadnavis in Latur to inquire about his health and safety. Governor Ch Vidyasagar Rao also called Fadnavis.
Thackeray and Fadnavis are known to share a good rapport. For the past two years, they have established a direct dialogue to sort out problems within the coalition. But since the bitter campaigning in the Mumbai civic polls their relations have been strained. More recently, Thackeray has been directly taking on Fadnavis by criticising his pet policies and projects.
West Bengal CM Mamata Banerjee also tweeted about the incident.
Fadnavis was in Latur for the Shivar Sawad initiative, which aims at reaching out to farmers across 43,000 villages. The BJP's farmer outreach is a bid to counter Opposition as well ally the Shiv Sena's consistent attacks that the state government's handling of the agrarian crisis is shoddy.
Fadnavis, just before leaving for Mumbai, had a dialogue with villagers from Halgara village in Nilanga taluka of Latur. The village has been successfully working for water conservation for the past 50 days through volunteering.