Mumbai colleges embrace technology with e-content, smart boards
Jun 18, 2018 12:41 PM IST
While several international and state board schools in the city have opted for smart classrooms to make learning fun for children, colleges are now following the lead.
Even as the state has asked junior colleges to install biometric attendance system to ensure students attend classes instead of going to lectures at private tutorials, most colleges are already making optimum use of technology in its classrooms and administrative offices.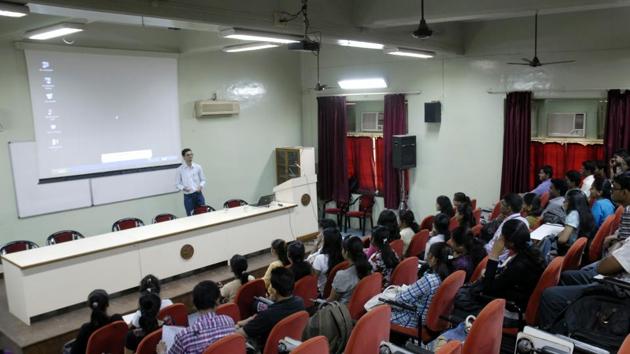 Colleges have embraced technology to digitise administrative work, creating electronic-content (e-content) for lectures and have replaced chalk-and-board classrooms into learning spaces equipped with 'smart' boards.
"Before the college closed for summer holidays, we had organised a workshop to explain teachers the benefit of e-content. We plan to introduce the same in the new academic year for certain subjects as a pilot project," said Naresh Chandra, principal of Birla College in Kalyan.
E-content consists of all the teaching materials which can be accessed online. Birla College had invited an expert from Delhi to introduce the concept to teachers in April.
"Once the college reopens, this will be one of the projects we will be working on implementing it," he added.
With class 10 and 12 results already out, all colleges are busy with the ongoing admissions process. For years, the process has meant tonnes of paper work for the institutes. However, off late, the system is changing.
"We plan to digitise our administrative work altogether and make the admission process simpler for students as well as the college," said Marie Fernandes, principal, St Andrew's College in Bandra.
The college has already been conducting admissions to degree courses online for the past two years.
While several international and state board schools in the city have opted for smart classrooms to make learning fun for children, colleges too, are following the lead.
"A teacher can use smart boards to download files from the internet and teach in class. Teachers can also bring their study material in a pen drive and connect the same to the smart board. Once the lecture is over, teachers can share the lecture with students because the board autosaves everything taught during the lecture," said Rajpal Hande, principal of Vile Parle's Mithibai College.
He added that smart boards have been installed in all classrooms and will be put in use from today. "Students are technologically advanced. So we too need to keep up with them. Technology will be helpful for students and teachers alike," Hande said.
Anupriya Kale, student of Mithibai College, said: "Our college already has Wi-Fi in place and this gives us the chance to look up information in class while a lecture is on. Having smart boards in classroom will be of more advantage because the teacher can even share the lecture with us after class."
COLLEGES GET TECH-SAVVY
The Maharashtra government last week directed all junior colleges, especially those with Science stream, to install biometric attendance system for students. The move comes after receiving several complaints from junior colleges about students skipping regular lectures and instead attending coaching classes. A government resolution (GR) to this effect was released on Friday and colleges are supposed to implement this rule within one month.
"Students in several colleges enrol in coaching institutes and integrated coaching classes and attend college only for practical lectures. Many junior colleges too have tied up with coaching centres. All this has to stop," said the circular. It further states that colleges will be held responsible if they are found without the biometric attendance system within one month. "We hope to put at end to the coaching classes menace is the state and some the latest concentration of such classes in in certain parts of the state, the GR is applicable to Mumbai, Pune, Nagpur, Nashik and Aurangabad," said the GR.
"Exciting news! Hindustan Times is now on WhatsApp Channels
Subscribe today by clicking the link and stay updated with the latest news!"
Click here!