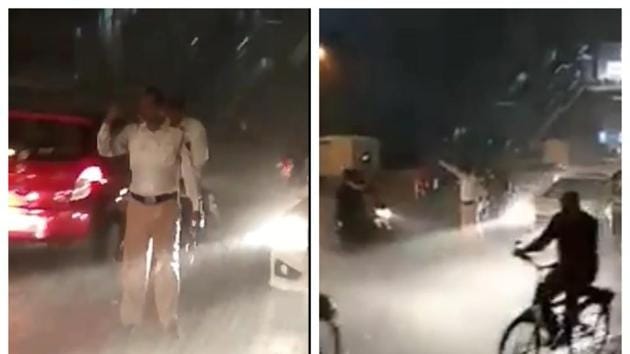 Mumbai cop manages traffic in heavy rains, praised on social media
A video showing a Mumbai cop managing traffic drenched in rain has gone viral on social media, with many calling him a "real hero".
UPDATED ON JUN 08, 2018 03:42 PM IST
Mumbai Police constable Nandkumar Ingle says he never thought doing his "usual duty" would earn him so much appreciation.
The 47-year-old Ingle from the Dahisar traffic division, according to Mid Day, was posted at Akurli Road in Kandivali East when he managed traffic on a busy road while standing in the heavy rain earlier this week.
Mumbai-resident Satyam Yadav shot a video of Ingle clearing the traffic without a raincoat or an umbrella and shared on Facebook with the caption "dedication". The post has so far collected more than 26,000 shares and 1.5 million views, with many calling him a "real hero".
"Dedication like a ROCK, n too solid n rarely SEEN in these times, I must say...(sic)," wrote one user.
"Mumbai traffic police salute u guys .U r real hero (sic)" commented another.
Ingle says he had no idea that he had become an internet sensation overnight until he started getting calls from friends and relatives.
"At first I thought it must be a prank. But when I saw the clip myself, I had goosebumps. Never did I imagine that doing my usual duty would get me so much appreciation," he told the Mid Day.
"I have been in the force for the last 23 years but never witnessed such a moment before. I don't know who caught me on camera, but I thank that person. I am overwhelmed and speechless."
Read more: Delhi traffic cop does his duty in heavy rain, internet salutes his determination
Ingle's seniors and colleagues have also praised his efforts.
"We are really proud of Ingle. Thanks to this video, people now must have an idea about the conditions in which traffic constables work. We urge motorists to be patient, as their impatience, at times, causes jams," Dahisar traffic division in-charge Surykant Gaikwad said.
Last year, a traffic policeman in Delhi was similarly praised after he was seen helping a driver push his car and managing the traffic amid pouring rain.
The weather department has forecast "extremely heavy rain" between Saturday and Monday in Mumbai advising people to stay indoors. Large parts of the city were flooded in July 2005 and many people lost their lives when Mumbai recorded 900 mm of rainfall in 24 hours.
Close