Mumbai's Metro-3 project in way of Aarey tribals' land and livelihood
Published on Sep 16, 2018 11:15 PM IST
Bhoye's family, which belongs to the Kokna community, is one of the many tribal families who have overnight lost access to their farmlands — one of the primary sources of their livelihood because of the Metro-3 work.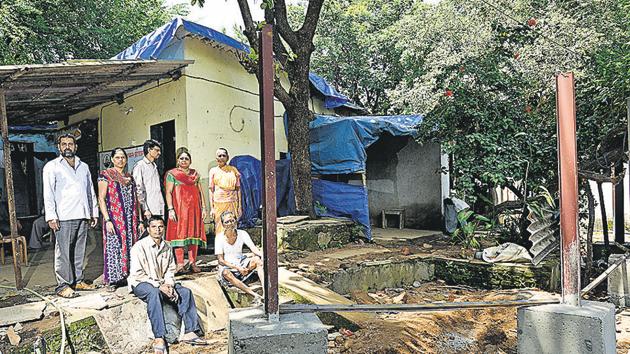 A week ago when an excavator started tearing down houses at his hamlet at Prajapur Pada in Aarey Colony to build pillars and walls for the Metro-3 (Colaba-Bandra-SEEPZ) project, 72-year-old Budhya Babu Bhoye and his family were in shock. Now, as Bhoye looks at the cashew tree he planted on their 40-guntha farmland 10 years ago, he breaks down when he realises their land — which stands in the way of development — is no longer theirs, and their future is uncertain.
Bhoye's family, which belongs to the Kokna community, is one of the many tribal families who have overnight lost access to their farmlands — one of the primary sources of their livelihood. A majority of them are traditional agriculturists, involved in the cultivation of rice, paddies, fruits and vegetables. As of now, 75 tribal families have already been rehabilitated out of Aarey to a slum redevelopment project in Kanjurmarg.
The wall being constructed by the Mumbai Metro Rail Corporation (MMRC) for Metro-3 will destroy 179 fruit trees of the Bhoyes. The MMRC construction is allegedly in breach of a May 14 order from the National Green Tribunal (NGT) upholding a previous 2015 order according to which activities such as debris dumping, land reclamation or tree felling have been stayed at Aarey Colony until further hearing. A contempt plea was filed at NGT on Friday alleging breach of this order, that included construction activity at the Prajapur hamlet. Meanwhile, MMRC's rehabilitation plan for tribals shows the Bhoyes and other tribal hamlets as 'slum dwellers'.
The Bhoyes, who claim they have been residing at Prajapur Pada since 1946, were first offered a 35sqft shop at Kanjurmarg as compensation. When they refused this, they were offered another shop at Durganagar, Jogeshwari. However, the Bhoyes did not accept that either and moved the Bombay high court this year, seeking protection from being evicted. They prayed for punitive action against several respondents including the state, MMRC, and Brihanmumbai Municipal Corporation (BMC). "We have submitted documents in the court to prove our community has been residing in the Goregaon village (now Aarey) for over a hundred years and we have had possession of this farmland from the pre-independence era," said Kisan, Bhoye's 52-year-old son. "We are being forcefully displaced to slum rehabilitation authority (SRA) buildings."
Bhoye's wife Asha said the family has land receipts from the Aarey administration as proof that the area was a farming space, and belonged to them. "From 1970s to 1999, the Aarey administration issued receipts for cultivation charges under our name, which clear indicate that we have been farming here for decades. However, from 2000, Aarey authorities wrote to the state to revise the rates. No receipts have been issued ever since that."
However, MMRC maintained a neutral stand. "As a prudent government organisation, we carry out our activities responsibly. We may neither confirm, nor deny what is being alleged," said an MMRC spokesperson. In response to the Bhoyes' petition, MMRC submitted an affidavit (HT has a copy of both documents) rubbishing their claims, denying they were project-affected persons, and dismissing that any farming activity was ever undertaken at the site. "The petitioners purchased 20 saplings from the BMC nursery department at ₹1 each. They have deliberately misrepresented to the HC that they were cultivating any land in the project-affected area," the affidavit read.
The land belongs to the state, and it was handed over to MMRC to build the Metro-3 car shed, said advocate Kiran Bhagalia, MMRC's counsel. "The residents of the area have been unable to prove anything in court so far."
Bhagalia further said three activities— debris dumping, reclamation and tree felling – are prohibited as of now. "However, there is no restriction on construction, which petitioners are misinterpreting. Thus, it will continue." However, environmentalists also said the tribals were paying the price for protecting Aarey. "This state has no compassion for tribals and forests. It is evident from the way these agencies are operating in brazen violation of court orders," said Amrita Bhattacharjee, from Aarey Conservation Group.
Meanwhile, the Bhoyes are determined to fight their case based on the provision of the Forest Rights Act, 2005, which protects lands of tribals under the Scheduled Tribes and Other Traditional Forest (Recognition of Forest Rights) Act, 2006, and Constitution (Scheduled Tribes) Order, 1950. "We are only at loss as our certificates are pending before concerned authorities. We are fighting on the basis of cultivation receipts and ration cards," said Kisan. As construction work continues to raze their farmland, their only hope is the HC, which will hear the matter on Monday.
Close Story
Personalise your news feed. Follow trending topics