Navi Mumbai society switches to solar to reduce CO2 emissions
According to the society members, the reduction in their annual carbon footprints is equivalent to planting 500 trees.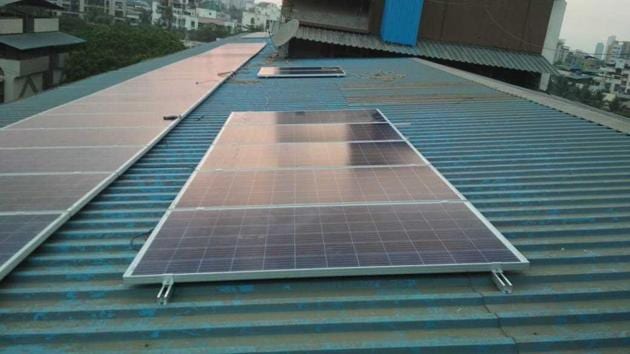 Updated on Apr 29, 2019 01:29 AM IST
Hindustan Times |
Badri Chatterjee
Residents of a Navi Mumbai-based cooperative housing society recently installed a 31 kilowatt-power (kWp) rooftop solar power system in a bid to reduce its carbon dioxide emissions (CO2) by one tonne every month.
According to the society members, the reduction in their annual carbon footprints is equivalent to planting 500 trees.
Residents of Alaknanda Cooperative Housing Society (CHS), which has 183 flats in nine buildings, installed the rooftop system — spread across 10,000 sqft area, having 100 panels — at a cost of ₹20 lakh in March, to power its water pump, four lifts, gardens, parking spaces and staircases. The society, which had been spending ₹45,000 every month on electricity bills, hopes to reduce the same by 90% to ₹5,000 now.
The private company which installed the project helped residents calculate the exact quantum of power they need to reduce their carbon footprint. "Based on our electricity consumption — 3,600 units every month — and the estimated power that will be generated by the solar system — 3,200 units — we calculated we will be reducing carbon emissions by one tonne every month, which is equivalent to planting 500 trees annually," said Dipankar Dasgupta, chairman of the society. "Damages made to the environment now will have a serious impact on our future generations. We decided to leave something behind," he said.
When HT shared details of the project with an official from the Ministry of New and Renewable Energy (MNRE), the latter confirmed that the carbon emissions will be reduced by 1.1 tonnes over 30 days. "The Mumbai Metropolitan Region has a very high potential to generate solar power owing to high sunlight intensity for eight months in a year. More residential areas should opt for this."
The residents of the society hope to recover the project cost within five years. "Societies avoid solar power because of the high cost. We used an overdraft facility — a credit agreement with a bank — which allowed us to withdraw more money than the approved limit. Combined with state subsidies for solar projects, the initial investment can be recovered soon," said Dasgupta.
SP Gon Chaudhuri, chairman, International Solar Innovation Council, said rooftop solar projects are gaining momentum across central India as they are cost-effective and energy-saving. "Citizens need to consider the environmental benefits against burning of coal for electricity."
A 2017 study by IIT-B found that the city currently generates five-megawatt peak power, which is just 0.3% of its potential, 1.72-gigawatt peak power.
Close Story
Personalise your news feed. Follow trending topics