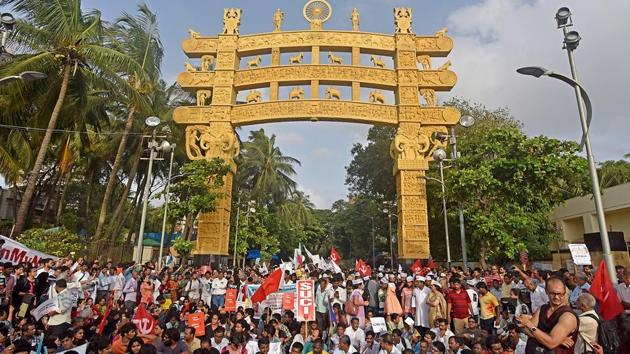 RPI rally today: Brace yourself for traffic jams in central Mumbai
The march, scheduled from 4pm to 7pm, will start at Chaityabhoomi and go up to Naigaon in Dadar; it aims to promote harmony between Marathas and Dalits
UPDATED ON JAN 22, 2018 11:37 AM IST
The Republic Party of India's (RPI) 'Unity March', to be led by Union minister and Dalit leader Ramdas Athawale, on Monday evening is likely to disrupt peak-hour evening traffic in south-central Mumbai.
Thousands of RPI workers and Dalits are expected to attend the rally.
The three-kilometre march will start from Chaityabhoomi in Shivaji Park at 4pm and go up to Naigaon in Dadar. It is expected to pass through Shivaji Park, Plaza cinema, Tilak bridge, Dadar TT and culminate in a meeting at Sadakant Dhavan ground in Dadar (East) at 7pm, which will be addressed by the Union minister.
The RPI, however, does not think that the rally will not cause any major traffic disruptions. "The police will manage things, and traffic will be delayed by five to 10 minutes," said Avinash Mahatekar, national general secretary, RPI.
The rally is being held to promote harmony between the Maratha and Dalit communities in the state. "It is an attempt to foster relations and encourage unity between the two major communities, which have been affected by the Bhima Koregaon violence," Mahatekar explained.
On January 1, violence erupted at Bhima Koregaon , 40km from Pune, during Dalit celebrations of the 200th year of the British-Peshwa war in which Dalit soldiers played a pivotal role in ensuring victory for the British. Some attribute the violence to the simmering discontent between the Marathas and Dalits. The ensuing Maharashtra bandh paralysed life across the state, including in Mumbai, as well as large-scale destruction of public and private property.
Many Mumbaiites don't think the march is a good idea, and call it just a political stunt. "How can any march promote peace between two communities? A march on a Monday evening will inconvenience the public and lead to traffic jams," said Mitesh Gala, a resident of Dadar.
Some suspect that the rally is Athawale's way of countering his bete noire Prakash Ambedkar, who was the face of the Dalit stir following the Bhima Koregaon incident. Ambedkar, founder of the political party Bharipa Bahujan Mahasangh and grandson of Dr Babasaheb Ambedkar, had called for a statewide bandh on January 3 to protest against the violence at Bhima Koregaon, which was a success.
Close