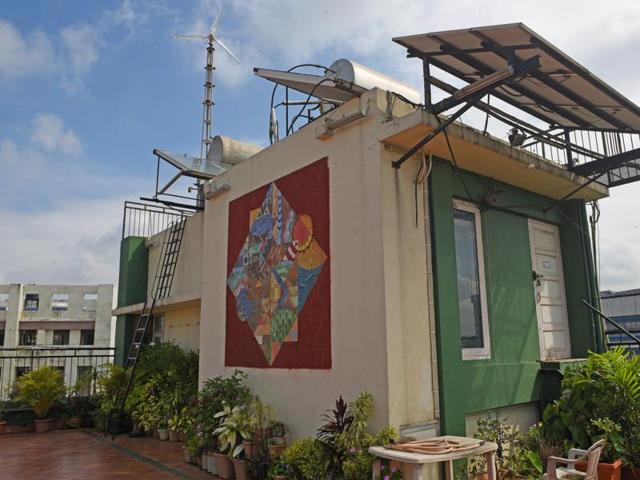 Solar, wind energy power this Vile Parle building
A solar water heater installed on the rooftop, heats up 1,000 litres of water daily
UPDATED ON OCT 09, 2016 10:07 PM IST
At a time when the city is reliant largely on electricity generated by the burning of coal and gas, a seven-storeyed apartment building in Vile-Parle stands out for using renewable sources to meet its energy needs.
Fourteen years ago, Harendra Shah, 70, and his brothers — Rajendra, 68, Pankaj, 66 and Shailesh, 60 — set up one of the first windmills in the city atop Dolat building opposite Cooper Hospital at Vile Parle (West). It included nine solar panels. The system now produces 2 kilowatt hour (kWh) peak power daily — 1.5kWh from the windmill and 500Wh from the solar panels — which is used to run the lights, fans and a computer in each of the floors. A Mumbai house with two bedrooms uses — on an average — around 8 KWh electricity daily
Thanks to these alternative sources of energy, the family saves 33% of their electricity bill every month. Originally Rs9,000 per month, it now costs Rs6,000 to provide electricity to the entire building. In the past seven years, the family saved Rs2.5 lakh in electricity expenses.
The family recovered the cost of the project within seven years of its inception. After setting up the project at cost of Rs5 lakh, the family received a subsidy of Rs2.5 lakh from the government within three years.
"Since all four of us are engineers, we knew the exact dynamics of such a project. We knew how it would benefit us today, even 14 years ago," said Shah, who, along with his brothers, are stockbrokers. "While our windmill was the first such establishment by a housing complex in Mumbai, the solar-plus-wind energy hybrid system works as a stopgap arrangement during power failures."
"During the 2005 deluge, the project helped us tremendously during power outages. On a sunny and windy day, we are able to access peak power of 2kW per day. However, during the monsoon, it drops to 1.5 to 1.7kWh a day," said Rajendra.
A solar water heater has also been installed on the rooftop and is powered using two of the nine panels, which heat up 1,000 litres of water daily. The water is then used in 18 bathrooms across the building.
Impressed by the success of their project, the Shah brothers have decided to install a net metering system — that allows excess solar electricity generated to be sent back to the grid, which the family will be compensated for by the electricity supplier — by the end of this year.
How does the wind energy setup work?
An 8-foot-tall fan with three blades and a small sail at the rear is pushed either by a wind generator or by a natural increase in wind speed
The moving blades produce kinetic energy (Direct Current or DC) that is fed to a battery
The battery charges the power from DC to Alternating Current (AC) that is sent to the building's meter, which automatically dispatches electricity to different lines across the seven floors
How does the solar energy setup work?
Solar radiation is converted directly into electricity by photovoltaic cells. The technology works without producing any polluting byproducts
The grid and solar power run parallel so that solar energy is evenly distributed throughout the complex
Why should you care?
Wind and solar energy are free sources of renewable energy
They not cause pollution and instead, reduce carbon emissions that come from burning coal, gas and oil for electricity generation
They can be used in remote areas where electricity from the grid cannot be accessed
Items such as street lights, calculators and other low power-consuming devices can be powered
The potential to harness wind and solar energy as a natural resource is infinite
However, building the equipment required to convert solar or wind energy into electricity or hot water is costly
Project replicated elsewhere
The windmill and solar project by the Shah brothers from Vile Parle was replicated by the family at their farmhouse at Murbad, Thane district with an increased capacity of 2.5 kilowatt hour peak power that powers the lights, fans and some heavy-duty electrical items
The solar energy project was replicated at their Andheri-based office where s 500 watt hour project has been installed to power all the lights and fans
Experts say
"The city's power situation can be transformed if we construct buildings which generate their own electricity and move towards the concept of 'zero energy' homes. In a city like Mumbai, where residential tariffs are high, such a project will be very cost-effective. Not to mention the reduction in carbon footprint that such a project would initiate."
Ranjan Banerjee, head of department, Department of Energy Science and Engineering, IIT Bombay.
Close