Tejas Express housefull for first ride from Mumbai, bookings full till May 24, plan your Goa trip now
Updated on Jul 07, 2017 12:50 PM IST
MUMBAI CITY NEWS: All 990 seats were booked and the waiting list stood at 5 for the executive class and 30 for the chair car till Monday 6.30pm—barely three hours after it was flagged off by railway minister Suresh Prabhu at Dadar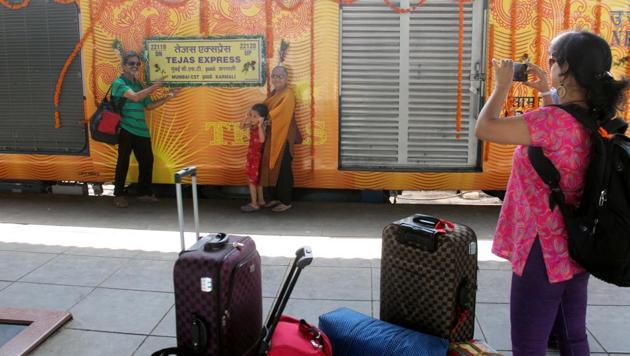 The Tejas Express, which comes with features such as automatic doors, vacuum bio-toilet, tea-copy vending machines, the local cuisine on the catering menu, onboard WiFi and entertainment screens, has received an overwhelming response from passengers.
All 990 seats were booked and the waiting list stood at 5 for the executive class and 30 for the chair car till Monday 6.30pm—barely three hours after it was flagged off by railway minister Suresh Prabhu at Dadar. Tickets for the next few days were also getting booked rapidly and the executive class booking was waitlisted for May 27.
Railway officials were taken by surprise with the response. "This was probably the first train in history to have reached such booking figures on its inaugural run," said a railway official.
The train was decorated for its inaugural run. Passengers were seen taking selfies. The train departed from CST at 4.06pm instead of 3.25pm.
"I am really excited and it's great that India has such a train," said Shashank Shrivasta, 28, who was travelling to Goa. He said that food was very good and seats very comfortable.
Suresh Prabhu said, "After Humsafar, Antyodaya and Deendayalu, it is now Tejas — all the trains promised in the budget." He added that Tejas was also a contribution to the Prime Minister's 'Make in India' vision, with the coaches being manufactured in Rail Coach Factory, Kapurthala.
Prabhu also announced to extend the services on the Mumbai-Ahmedabad route.
Western railway officials said that there was plan to introduce the train on the Mumbai-Surat route, but this would only take six hours and the train would not be used to its full potential. So they proposed to run it between Mumbai and Ahmedabad.
Besides flagging off Tajas, railway minister also inaugurated spate of suburban projects, amenities and facilities that includes inaugurated emergency medical rooms at Kurla, Ghatkopar and Wadala.
From May 24, Tajas express will run on five days of week excluding Monday and Thursday, on Mumbai-Goa route. It will depart from CST at 5 am and reach Karmali station in Goa in 8 hours and 30 minutes, at 1.30 pm. From there it will depart from return journey at 2.30 pm and reach CST at 11.00 pm.
According to railway officials, the train will cover the distance at average speed of 66 kmph.
Unlike other trains, almost half of the seats on the high speed train with facilities like onboard infotainment screens, WiFi, GPS enabled destination board half seats were booked during inaugural run on Monday.