Thane park project mired in graft allegations
Train at theme park was supposed to be operational but it's a miniature; statues were to be bigger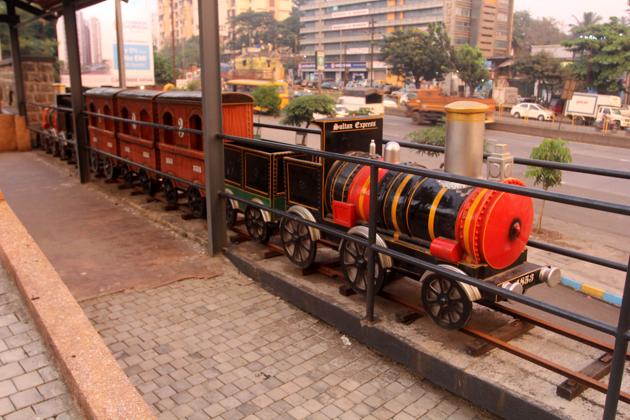 Published on Sep 28, 2018 12:49 AM IST
Six months after the city's first theme park opened, irregularities into the work have come to the fore.
Old Thane New Thane park at Patlipada was built at a cost of Rs16 crore — out of which Thane Municipal Corporation has paid Rs11 crore without verifying the work done.
On Thursday, the general body meeting brought out the irregularities by showing the original tender and work order copy of the theme park.
The original tender stated that the park will have a train with two engines and accommodate 24 adults and 36 people.
The corruption in the work was raised by NCP corporator Najib Mullah.
"As per the original tender document, the train was supposed to have two engines and three bogies. It was supposed to accommodate 24 adults and 36 children and run at 30 km per hour. The train installed at the park is a toy train in which no human can fit in. The train is not operational," Mullah said.
The tender also listed a 12-foot statute of Chhatrapati Shivaji Maharaj, a 12-foot statue of Lord Shankar and an old armoured ship.
"The statues of Shivaji and Lord Shankar in the park are a one-foot statue. The boat kept in the creek is in tatters. The creek has no water. The Mumbra Devi temple, Ghodbunder fort and MH High School models, for which TMC was charged around Rs1.5crore, are nowhere in the garden," said Mullah.
The general body revealed startling information wherein the concerned contractor had billed Rs36 lakh for a Rs. 2.15 lakh work. The work was related to the gardening at theme park.
While the consultant has blamed it on a printing mistake in the original tender document, the general body has demanded suspension of the engineer concerned and criminal case against the consultant.
Opposition leader Milind Patil said the cost of Ghodbunder fort was almost Rs80 lakh, which could have being spent on restoration of the actual fort.
Mullah alleged that corruption has also surfaced in Bollywood theme park undertaken by the same consultant. He alleged that there has being corruption in the work and the entire tender process was rigged. "For both the projects, three companies filed the tenders with exactly the same bidding percent. The same consultant was appointed in both the projects. The tender was finalised with almost five percent less that the estimated cost," said Mullah.
The corporation had approved a proposal for Rs2 crore for the theme park in 2015. "The budget increased to Rs16 crore which the TMC paid entirely from its own coffers," said Mullah.
The public works department of the TMC claimed that they have withheld some amount and have started verifying the murals and models in the park from the JJ School of Arts.
"It is true that there has been certain changes in the park, the items delivered are not as per promised. We have begun a third party audit on what were changed. We have also asked the JJ School of Art to look at the murals, statues and model and will make the payment only after their report. We have paid Rs11 crore so far. Based on the third-party audit, we will take action against engineers, consultant and contractor," said Anil Patil, city engineer
Naresh Mhaske, leader of the House, said, "The administration is supposed to inform the general body if there is any difference in the budget. There is no clarification under which head the budget was approved, nor were we given any intimation. This is a violation of the municipal corporation act."
Close Story