This Mumbai society stops 90% of its daily dump from going to landfills
Feb 12, 2018 11:54 AM IST
The Kandivli society lets housekeeping staff keep money they get from selling dry waste
The list of housing societies that are not passing the buck of collecting and treating garbage to the civic body is getting longer by the day. The newest addition to the list of societies moving towards decentralised waste management at source is Spring Leaf society.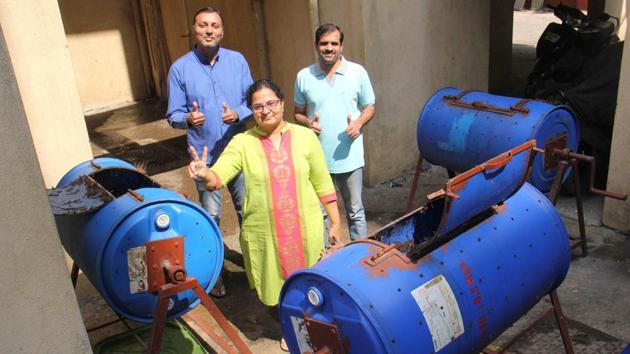 Spring Leaf society's building 7 in Lokhandwala Township in Kandivli (East) has managed to save 90% of their daily waste from ending up at overburdened city dumping grounds. Spearheaded by three society members – RS Sreenivasan, his wife Subha, and Mohammad Qureshi — the building has managed to segregate 100% of its waste.
From October 2017, 60kg of organic waste produced by 84 flats everyday is being treated at three compost drums, which were designed by society members themselves. This means the society has managed to save 7,200 kg of wet waste from being sent to city dumping grounds. The residents are also saving their daily 20kg (2,400 kg in four months) dry waste, mainly plastics, by sending it to local recyclers and allowing the local housekeeping staff to claim the money earned from it. Only 10% of biomedical and electronic waste is being taken by the Brihanmumbai Municipal Corporation (BMC) dumpers.
Segregating and treating waste at source is essential because recurring fires at the city's dumping grounds in 2015 and 2016 were caused by the unsegregated toxic garbage catching fire owing to high methane content, according to the civic body. Apart from a host of pollutants released into the air when mixed garbage burns, liquid residue from the charred remains can contaminate groundwater.
"We were really irked by the deteriorating air quality due to the burning of mixed garbage and realised that it is our responsibility to protect the environment around us. We went door to door as part of this awareness campaign and requested each resident to start segregating wet and dry waste, and explained the basics of how we planned to process organic waste," said Sreenivasan. "We need to move from ignoring the problem to thinking about the impact on this planet. This pushed us to go green."
Subha pointed out that a lot of research went into acquiring the right composting technology. "If you want to make some change, it needs to be done with an open mind, and you have to take the initiative. Only then will it happen," she said, "Today, there are many companies in the waste management territory that want to make money through the installation of such services. We did a lot of reading, research, web searches and talked to whoever was accessible, to gather information on a sustainable solution."
She added that they identified that a tumbler composter was a cost-efficient method to manage wet waste effectively. "We enquired in the market and found the cost to be around Rs85,000. We found it very expensive and decided to design one on our own. So, we sketched designs, modified them, went to several fabricators around Malad, Kandivli, Borivli and finally, after a lot of persuasion, we managed to find someone ready to build one for us. Within a month, we started wet waste composting," she said.
Soon, the society had three such drums, and since October, they have generated over 25 kg manure. It is used to nurture a garden in the complex. Members use dry leaves and shredded newspaper while treating wet waste, and the mixture is turned around in the composter four times during the day and twice during the night.
"When wet waste gets mixed with dry leaves and newspaper, a mixture of carbon and nitrogen aided by aeration by oxygen, cooks up the mixture naturally and helps break down matter," said Qureshi. "Bacteria and other microorganisms further break it down, and the final matter, rich in nutrients is compost."
As an added benefit, residents also use the liquid (leachate) which drips down, at the bottom of the drum. "We collect in a tray below the tumbler composter. The leachate is also a good source of nutrients for plants," said Shubha. "Sustainable solutions are always available, it is just about that extra effort to go out there and get it."